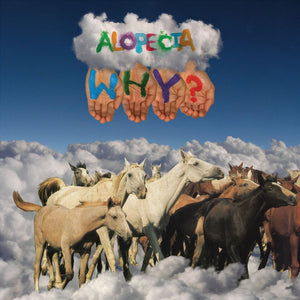 WHY? - ALOPECIA VINYL RE-ISSUE (LTD. ED. TRI-COLOUR + BONUS LP & 7" / LTD. ED. CLOUD + BONUS 7")
Regular price £29.99 Sale
VERSION 1: LIMITED 10TH ANNIVERSARY EDITION DELUXE TRI-COLOUR VINYL GATEFOLD RE-ISSUE + DEMO BLUE LP & BONUS RED 7"
VERSION 2: LIMITED 10TH ANNIVERSARY EDITION CLOUD COLOURED VINYL RE-ISSUE + BONUS RED 7"
Release Date: 17th August 2018
"If I'm sinking in laughing at something sunken in I am." The 10th anniversary of a genuine modern classic - a record that unified so many different genres, sounds and styles that it's still a one-of-a-kind one-off wonder! Who else could merge the indie strands of rock, pop, hip-hop, psych and electro with the most goddamn cool and witty lyrics and package it all into one solitary segment? Available on 'cloud' coloured vinyl or on a tri-colour vinyl gatefold with a bonus demos LP. Both come with a bonus 7" which includes re-mixes from Boards of Canada and Dntel (The Postal Service). This is a MUST have record for anyone who likes music!
For Fans Of: Animal Collective, Boards of Canada, The Postal Service, Dirty Projectors
"10th Anniversary Reissue Back In Print For The First Time In Years. "I'll go unknown by torpedo or Crohn's / Only those evil live to see their own likeness in stone." It's the kind of couplet you'd carve into a wall whilst savoring the irony at hand, but when Yoni Wolf spit the line ten years ago he was blissfully, broodily unaware that he and his band Why? were creating a career-defining album - one so fan-adored that it would go out of print, and so influential that the art-pop heroine Lorde herself would lovingly steal the very lyric quoted above. When it dropped in 2008, Alopecia not only marked Why?'s evolution from a sonically collaged mostly solo project to a live-recorded powerhouse band of badass multi-instrumentalists. It also minted a genre of one: wryly written, poignantly posed, simultaneously swaggering and heart-rending song-rap that jangles like folk, bursts like psych-rock, and sways like chamber pop. To this day, there is no other group in the known universe that sounds or feels like Why? does on Alopecia. The album's 2018 reissue cheekily etches that aural likeness into our musical history."