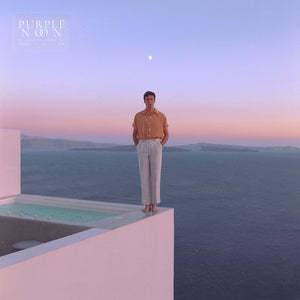 WASHED OUT - PURPLE NOON VINYL (LTD. 'LOSER' ED. PURPLE)
Regular price £20.99 Sale
LIMITED 'LOSER' EDITION PURPLE VINYL
Release Date: 7th August 2020
Washed Out, aka American producer-songwriter Ernest Greene, is back with some Balearic beauty for us all to bask in! Purple Noon sees Greene getting back to what he does best - making atmospheric and nostalgic floaty dance music. This is summer holiday soundtrack territory right here - even down to that cover art. We've missed the washes!
For Fans Of/You May Also Like: Panda Bear, Yuno, Wild Nothing, Neon Indian
"Washed Out is Atlanta-based producer / songwriter / multi-instrumentalist Ernest Greene. Over three enchanting, critically lauded albums and an EP his music has proved both transportive and visual, each release inviting listeners into immersive, self-contained universes. With 'Purple Noon', his fourth album and his return to Sub Pop, he delivers the most accessible Washed Out creation to date. 'Life of Leisure', Washed Out's 2009 debut EP, set the bar for the Chillwave era, shimmering in a warm haze of off-the-cuff Polaroids and pre-IG filters. 'Within and Without', his 2011 full-length debut on Sub Pop, morphed into nocturnal, icy synth-pop and embraced provocative imagery. 2013's 'Paracosm' was Greene's take on psychedelia, with a full live band and kaleidoscopic light show, and saw him playing to the largest audiences of his career. The sample-heavy 'Mister Mellow' (2017, Stones Throw) delivered a 360 audio / visual experience, with cut-n-paste and hand-drawn animation to match the hip hop influences throughout the album. With each release, Greene has approached his evolving project with meticulous detail and a steadfast vision. For 'Purple Noon' Greene again wrote, recorded and produced the entirety of the album, with mixing handled by frequent collaborator Ben H. Allen. Production of the album followed a brief stint of writing for other artists (most notably Sudan Archives), which enabled Greene to explore genres like R&B and modern pop. These brighter, more robust sounds made their way into the songs of 'Purple Noon' and mark a new chapter for Greene as a producer and songwriter. The vocals are front and centre, tempos are slower, beats bolder, and there's a more comprehensive depth of dynamics. One can hear the luxuriousness of Sade, the sonic bombast of Phil Collins and the lush atmosphere of the great Balearic beat classics. Mediterranean coastlines inspired 'Purple Noon' and Greene pays tribute to the region's distinct island culture - all rugged elegance and old-world charm - and uses it as a backdrop to tell stories of passion, love and loss ('Purple Noon's title comes from the 1960 film directed by Rene Clement and based on the novel 'The Talented Mister Ripley' by Patricia Highsmith). Much like romantic Hollywood epics, the melodrama throughout is strong: a serendipitous first meeting in 'Too Late'; a passionate love affair in 'Paralyzed'; disintegration of a relationship in 'Time to Walk Away'; a reunion with a lost love in 'Game of Chance'. 'Purple Noon' adds a layer of emotional intensity to the escapism of Washed Out's oeuvre, taking the music to dazzling new heights."