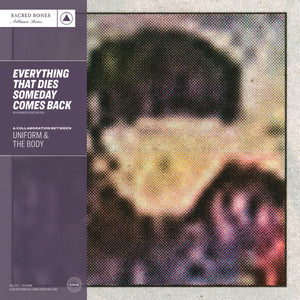 UNIFORM & THE BODY - EVERYTHING THAT DIES SOMEDAY COMES BACK VINYL (LTD. ED. PURPLE)
Regular price £21.99 Sale
LIMITED EDITION PURPLE VINYL
Release Date: 16th August 2019
The second collaboration album between industrial-noise, post-everything bands Uniform & The Body. Hot off the heels of last years' Mental Wounds Not Healing, Everything That Dies Someday Comes Back (as the name suggests) takes inspiration from Bruce Springsteen's iconic album Nebraska, in what is a post-apocalyptic ode to The Boss' sentiment on Nebraska that closure is just an illusion. Noise-Steen!
FFO: Bruce Springsteen, Blanck Mass, Swans, Sunn O)))
"On the heels of their monolithic collaborative LP Mental Wounds Not Healing, the collaboration between industrial-noise post-everything bands Uniform & The Body returns with a second entry, Everything That Dies Someday Comes Back. Comprised of an amalgam of abrasive influence that spans Swans-y dirge and purge, Whitehouse's clenched-jaw noise, middle-period Ministry's penchant for metallic post-industrial everything, New Order's nose for melodic emotionality, and Juicy J-inspired beats, Uniform & The Body's approach delves deeper down the rabbit hole than before, igniting a sonic world of terror and bliss poised to grip the throats of fans yet again. Prepare for a record that the band self-describes as "the middle ground between Robyn and Corrupted, but weirder." Much like the collective's bombastic debut, Everything was built over a series of collaborative sessions with Seth Manchester at Machines with Magnets in Rhode Island, mixing industrial-influenced synths, squalls of harsh noise, manipulated guitar, oodles of samples along with hard rock-inspired riffs, saccharine pop, and the alternately antagonistic and harrowing vocals of Michael Berdan and Chip King. The result is nine tracks of ear-bleeding and confrontational fury with defined moments of beauty that bring to mind equal parts No Trend, Merzbow, and Information Society while forging a path that is distinctly their own. Everything That Dies Someday Comes Back is specifically culled from the immortal Bruce Springsteen effort Nebraska, joining a long line of literary and cinematic references that pepper the album. And while the title is specific to that lyric, the sentiment also ties into author James Elroy and his notion that closure is an illusion, a conclusion found in his 1996 effort My Dark Places. Dealing with tragic loss is never a closed book, and the details, circumstances, and inherent emotions that surround coping never end, they just morph into something else, only to rear their ugly head again later in life."