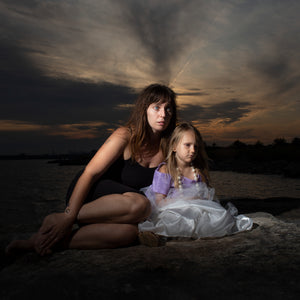 U.S. GIRLS - HEAVY LIGHT VINYL (LTD. ED. WHITE & PURPLE SPLATTER)
Regular price £19.99 Sale
LIMITED EDITION WHITE & PURPLE SPLATTER VINYL

Release Date: 6th March 2020
The new album, and follow-up to 2018's critically-acclaimed In A Poem Unlimited,
 

from the Toronto-based experimental pop artist 

Meg Remy is here for your pleasure! Remy's mixture of pop with the likes of gospel, funk, soul, and disco is a joyful, celebratory sound and interspersed with her more experimental moments makes for scintillating listening! 
For Fans Of/You May Also Like: Spellling, Jenny Hval, Julia Holter,  Weyes Blood
"The highly anticipated seventh album by U.S. Girls, the protean musical enterprise of multi-disciplinary artist Meg Remy, is entitled 'Heavy Light'. While Remy has been widely acclaimed for a panoply of closely observed character studies, on 'Heavy Light' she turns inward, recounting personal narratives to create a deeply introspective about-face. The songs are an inquest into the melancholy flavour of hindsight, both personal and cultural. Remy makes this notion formally explicit with the inclusion of three re- worked, previously released songs: 'Statehouse (It's A Man's World)', 'Red Ford Radio' and 'Overtime'. 'Heavy Light' follows 2018's internationally critically-acclaimed breakout album 'In A Poem Unlimited'. Recently named one of the best albums of the decade by Pitchfork, it was lauded across the pond by the likes of The Guardian, The Sunday Times, Crack and Q magazine for being Remy's most accessible record in her then decade-long career. 'Heavy Light' is produced by Remy and was recorded live with 20 session musicians - including E Street Band saxophonist Jake Clemons - in Montreal's acclaimed Hotel 2 Tango studio. Remy worked with co-writers Basia Bulat and Rich Morel to develop the core of 'Heavy Light', a set of songs conceived as a balance between orchestral percussion (as richly arranged by percussionist Ed Squires) and the human voice (conducted by Kritty Uranowski). The resulting album finds Remy casting herself as lead voice among a harmonious multitude, the singers of which lend not only their voices but also share reflections on childhood experiences that are collaged into moving spoken word interludes throughout the album. The album is mixed by long-time collaborators Maximilian 'Twig' Turnbull, Steve Chahley and Tony Price."