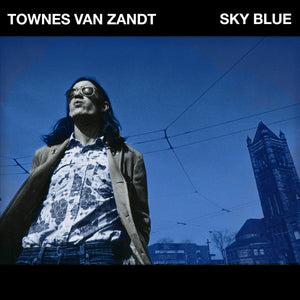 TOWNES VAN ZANDT - SKY BLUE VINYL (LTD. ED. 'SKY BLUE' COLOURED GATEFOLD)
Regular price £21.99 Sale
LIMITED EDITION 'SKY BLUE' COLOURED VINYL GATEFOLD
Release Date: 8th March 2019
Townes Van Zandt may not longer be with us, but he left us a hidden treasure in Sky Blue before leaving this earth. Sky Blue is a collection of previously unreleased tracks as well as some never before heard tracks all released to celebrate what would have been the iconic country-folk singer-songwriter's 75th birthday.
FFO: Steve Earle, Bill Callahan, Willy Vlautin, Peter Oren
"Sky Blue, a collection of unreleased songs by one of the most celebrated songwriters of the twentieth century, is a time capsule that Townes Van Zandt created forty-six years ago, and we're only now just unearthing and opening it to find the treasures inside. Scheduled for release by TVZ Records and Fat Possum Records on March 7, 2019—which would have been his 75th birthday—this album shows the artist working out some of his most iconic songs in an intimate, comfortable setting with one of his lifelong confidantes. - Unreleased acoustic recordings from 46 years ago - Two new songs never before heard - Being released on Townes Van Zandt's 75th birthday - Available in a gatefold vinyl - Liner notes from John Lomax III, Townes Van Zandt's former manager."