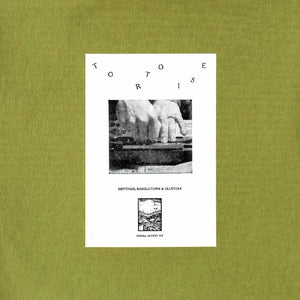 TORTOISE - RHYTHMS, RESOLUTIONS & CLUSTERS VINYL (LTD. ED. OPAQUE GOLDEN YELLOW)
Regular price £31.99 Sale
LIMITED EDITION OPAQUE GOLDEN YELLOW VINYL
Release Date: 22nd April 2022


"Tortoise have spent nearly 30 years making music that defies description. While the Chicago-based instrumental quintet have nodded to dub, rock, jazz, electronica and minimalism throughout their revered and influential discography, the resulting sounds have always been distinctly, even stubbornly, their own.
One of the throughlines that create that distinctive sound is what might be called a pervasive element of group play, or ensemble-mindedness, as opposed to emphasis on a virtuoso soloist or frontman.
'Rhythms, Resolutions & Clusters' follows in this line, as Tortoise turned their iconic early songs over to their friends to play with. The remixes by other legends including Bundy K. Brown, Steve Albini, Jim O'Rourke, Brad Wood (Liz Phair), Casey Rice, Mike Watt (Minute Men) and Rick Brown (75 Dollar Bill) create a sense of community, and unlimited creativity. It's been out of print since 1995.
"As with the best of Tortoise, these tracks can be enjoyed on many levels, but when listened to carefully, they reveal seemingly infinite sonic treasures." - Pitchfork
Tortoise have been in demand and known for their international touring, featured at major festivals such as Pitchfork, Big Ears, Le Guess Who and Primavera, among others.
Album comes in reproduction of the original jacket, with artwork and images from Marty Perez and James Warden, designed by Tortoise."