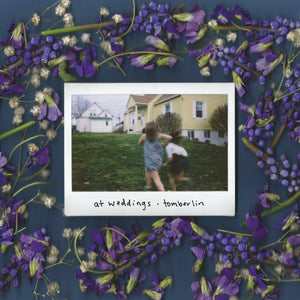 TOMBERLIN - AT WEDDINGS VINYL (LP)
Regular price £19.99 £13.99 Sale
Release Date: 24th August 2018
The debut album from 

Sarah Beth Tomberlin, aka Tomberlin, is wise beyond her years and conjures up the heart-felt folk of Vashti Bunyan with the ambience of a Grouper record and the melodic darkness of a Sufjan Stevens acoustic record. At Weddings is the dividing line between beauty and sadness with each note and vocal swaying on the edge of darkness waiting to engulf it but for enough light shining to keep it from falling. A stunning, honest and heart-breaking record! 
FFO: Grouper, Sufjan Stevens, Julien Baker, Vashti Bunyan
"On her deeply moving debut album At Weddings, Sarah Beth Tomberlin writes with the clarity and wisdom of an artist well beyond her years. Immeasurable space circulates within the album's ten songs, which set Tomberlin's searching voice against lush backdrops of piano and guitar. Like Julien Baker and Sufjan Stevens, she has a knack for transforming the personal into parable. Like Grouper, she has a feel for the transcendent within the ordinary. Tomberlin cites the hymns she grew up singing in church as her greatest musical influence, and while At Weddings in many ways documents the unlearning of her childhood faith, it's easy to hear the reverential quality of sacred music in her songs. With At Weddings, this remarkable young songwriter offers up comfort and wonder in equal measure."