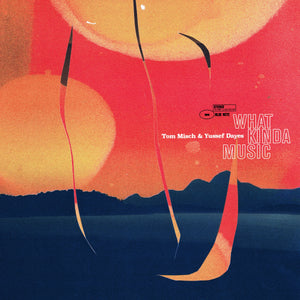 TOM MISCH & YUSSEF DAYES - WHAT KINDA MUSIC VINYL (180G 2LP GATEFOLD)
Regular price £23.99 Sale
Release Date: 24th April 2020
Two of the UK's most talented artists come together for one of the surprise highlights of the year. The hip-hop beatsmith with that sweet soulful voice, Tom Misch, joins forces with the incredible drummer and percussionist, Yussef Dayes (previously half of the infamous pair Yussef Kamaal).What Kinda Musicnot only has some of the best drumming you're likely to hear in 2020, but hands down the most incredible production of Dayes' magic. To top it off there's a guest spot from the one and only Freddie Gibbs, to make this jazz/ hip-hop/ electronica crossover a sure contender for those end of year lists. 'What kinda music'? Bloody good music, mate!
FFO
: Yussef Kamaal, Freddie Gibbs, Kamaal Williams, Alfa Mist
"An astonishing collaboration between two artists of very different disciplines, and one of the most unique and seamlessly original projects of its ilk to date. Moving fluidly through sleek electronica, avant-garde jazz, vintage hip hop and so much more, Misch and Dayes take you on a journey that is by turns surprising and spontaneous, heady and head spinning, and nothing less than compelling – a singular vision which fuses the DNA of both musicians with spectacular results, as can be seen in the title track, which comes backed by a gorgeously atmospheric video by XX."