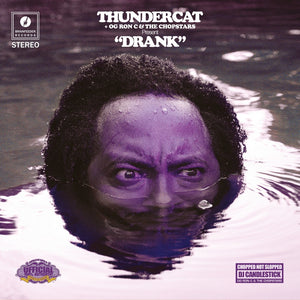 THUNDERCAT - DRANK VINYL (LTD. ED. PURPLE 2LP)
Regular price £22.99 £17.99 Sale
LIMITED EDITION PURPLE 2LP VINYL
Release Date: 16th March 2018
If you thought last year's Thundercat album Drunk was bat-shit crazy, then you're in for a surprise with this chopped and screwed version of the record - aptly named Drank. Created by OG Ron C & The Chopstars, Drank gives an altered 'spin' (get it?) on this excellent and eclectic record. If Drunk was for the boozers, then this one's for the stoners!
For Fans Of: NxWorries, Flying Lotus, Shabazz Palaces
"Brainfeeder presents a special "chopped not slopped" mix of Thundercat's incredible album Drunk (2017) by DJ Candlestick and OG Ron C of legendary Houston DJ collective The Chopstars. Slowed down, chopped up, the mix has been appropriately re-titled Drank. "If you got Drunk it's only right that you get Drank. I feel like they go together" declares Thundercat."