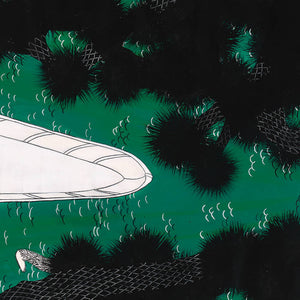 THEE OH SEES - THEE HOUNDS OF FOGGY NOTIONS VINYL RE-ISSUE (LTD. ED. 'COKE BOTTLE' GREEN)
Regular price £23.99 Sale
LIMITED EDITION 'COKE BOTTLE' GREEN VINYL RE-ISSUE
Release Date: 24th May 2019

Remastered re-issue of the long out of press, soundtrack to the 2008 'live' documentary of Thee Oh Sees! Thee Hounds of Foggy Notion showcases the band's mellower, lo-fi psychedelica ala The Velvet Underground or Sonic Youth which they are equally excellent at! 'Sees' for yourself!
For Fans Of: The Velvet Underground, Sonic Youth, King Tuff, Wooden Shijips
Remastered soundtrack to "live" documentary of Thee Oh sees from 2008 now reissued after being out-of-print for years. Recorded during their Sucks Blood era in 2007, the performances include songs from previous albums, as well as others that were unreleased at the time. The album is far removed from the brain-immolating fuzz-punk the San Franciscan act has churned out in recent years, but this throwback material is just as unearthly thanks to gelatinous reverb and songcraft that's more suggested than concrete. Each track was recorded and filmed outside of the studio, floating lazily into the bay, forest, or whatever ecosystem the band happened to inhabit. It's earthy stuff.

"Live Performances Sans Stages And Whatnots With Thee Oh Sees (2008), is a film we made just over a decade ago, and this record is the soundtrack. I loved making it, and I love all that were involved. I'm honestly blissed-out proud to hear over the years that it somehow is loved by so many others, too. "I first met John Dwyer on Flag Day. I was blown away by a trio of roving Coachwhips guerrilla street shows that climaxed at the the scenic vista parking lot high above San Francisco atop Mt. Sutro. Amongst the gathered uninitiated hordes of souvenir sweatshirt selling families, and puzzled elderly global tourist translators, and a white weirdo tuxedo wedding party, was the sonic corruption of the Coachwhips...I'm certain that this exact event was the idea seed for Thee Hounds Of Foggy Notion, and that it saved my life a little bit. "When JPD asked me to consider making a video for Thee Oh Sees with the sole stipulation that he didn't want to do anything fake-y to playback, my head started swimming. What we mutually agreed upon was to essentially reprise Flag Day, and film Thee Oh Sees performing live, but not on stages. "I rented a 15-passenger van, a generator, and the minimal cinematic equipment my trusted cinematographer friend James Wall deemed we needed. Everything sound wise was JPD territory and went through an ancient mixing board that Johnny had housed within a Samsonite suitcase. We ran all the plate mics from the drums, and the li'l pedestal mics from the amps through this old mixer, and we all believed that all would be well and swell."" —Brian Lee Hughes