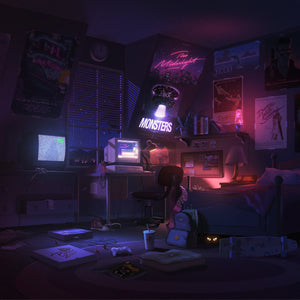 THE MIDNIGHT - MONSTERS VINYL (LTD. ED. PURPLE SWIRL 2LP GATEFOLD)
Regular price £27.99 Sale
LIMITED EDITION PURPLE SWIRL 2LP VINYL GATEFOLD

Release Date: 10th July 2020
The American electro duo bring us an 80's nostalgia fest complete with synth-heavy electro, a touch of cheesy pop-rock and some over-the-top (on purpose) 
shredding
 guitar and ripping sax solos! Imagine if the Drive OST and the Stranger Things OST gave birth on the dancefloor but wanted to slowdance. Monstrously addictive!
For Fans Of/You May Also Like: Drive OST, Stranger Things OST, Chromatics, Mike Simonetti
"'Monsters' is the new album from US-based duo The Midnight. Having gone from online cult fascination to selling out London's Roundhouse in 2019 the album finds the duo (lyricist, guitarist Tyler Lyle and instrumentalist and producer Tim McEwan) creating a sweeping sound that fuses Americana archetypes with an evocative electronic palette referencing synth-driven film scores, deep house, pop, and rock. 'Monsters' (released via Counter Records, home to Maribou State, Odesza, Chrome Sparks) sees a continuation of The Midnight's immersive worldbuilding that has attracted a rabid fanbase. From the album artwork to the song titles, the record excavates teenage emotions through nostalgic touchstones — the early internet, VHS tapes, Playstations, movie posters — to recreate the thrilling and crushing experiences of those tumultuous years."