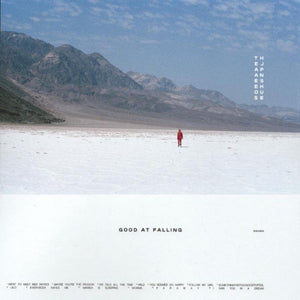 THE JAPANESE HOUSE - GOOD AT FALLING VINYL (LTD. ED. VIOLET 2LP GATEFOLD / SPECIAL ED. WHITE 2LP)
Regular price £19.99 Sale
VERSION 1: LIMITED EDITION VIOLET COLOURED 2LP VINYL GATEFOLD
VERSION 2: SPECIAL EDITION WHITE 2LP VINYL GATEFOLD
Release Date: 1st March 2019
Limited edition press of only 1000 Copies. The debt album from The Japanese House, the project of London-based Amber Bain, is a nostalgia-warped pop record with electro and rock nods to the 80's but still a product of its time, of the fluid-flux of our modern times. Co-produced from The 1975's George Daniel, Good at Falling could be 2019's A Brief Inquiry Into Modern Relationships - it's that good! 
For Fans Of: The 1975, Briana Marela, NADINE, Porches
"The Japanese House releasess her debut album

 

Good at Falling

 

via Dirty Hit. Produced by The Japanese House (aka Amber Bain), BJ Burton (Low, Bon Iver, Francis and the Lights) and The 1975's George Daniel,

 

Good at Falling

 

follows four acclaimed EPs.

 

Good at Falling

 

began as demos recorded by Bain on her laptop in her room in London, and was finished in studios across Wisconsin, Brussels and Oxford, by Bain, BJ Burton and George Daniel. The result is an album that draws from Bain's life in a way her work never has before - a more personal, vulnerable and yet confident body of work."