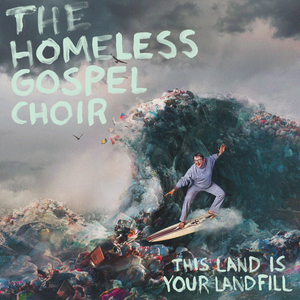 THE HOMELESS GOSPEL CHOIR - THIS LAND IS YOUR LANDFILL VINYL (LTD. ED. SKY BLUE)
Regular price £18.99 £14.99 Sale
LIMITED EDITION SKY BLUE VINYL

Release Date: 8th May 2020
The latest album from The Homeless Gospel Choir, aka the political punk-rock persona of American musician Derek Zanetti, is here and it's his most vibrant and vital release yet. This Land Is Your Landfill is bursting at the seems with a raw aggression and fierce frustration mainly aimed at the state of the world and in particular, the USA, right now. 
FFO: Jeff Rosenstock, Emperor X, Prince Daddy & The Hyena, Antarctigo Vespucci 
"The Homeless Gospel Choir, the musical moniker of songwriter Derek Zanetti, has just announced a brand new full-length, This Land Is Your Landfill, due out April 24th, 2020 on HASSLE RECORDS. Since 2009 the Pittsburgh, PA-based project has mostly been a solo affair, rooted in Zanetti's blend of singer/songwriter intimacy and punk rock delivery, but the release of This Land Is Your Landfill marks a reinvention for The Homeless Gospel Choir. Driven by personal upheaval, Zanetti gathered an all-star cast of punk collaborators to create the kind of ruckus, full-band album that he'd always dreamed of. The Homeless Gospel Choir has shared a taste of this new direction with 'Young and in Love' a blast of fuzzed-out, '90s-inflected guitars and roaring bass that finds Zanetti paying tribute to the freedom that can come from artistic expression. The song reaches an anthemic conclusion with a triumphant refrain and vocal contributions from Zanetti's fellow musicians."