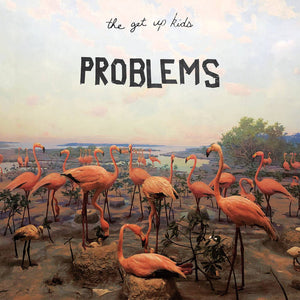 THE GET UP KIDS - PROBLEMS VINYL (SUPER LTD. ED. 180G LIGHT BLUE IMPORT)
Regular price £24.99 Sale
SUPER LIMITED EDITION 180G LIGHT BLUE VINYL IMPORT
Release Date: 10th May 2019
The Get Up Kids' first album in over 8 years is finally here and it's been worth the wait, with Problems being a massive return to form and potentially one of their best albums, ever! This is old school Get Up Kids - energetic, emotional, catchy-as-hell punk-rock that will have you shouting along in no time. Thank you lads, it's good to have you back!
FFO: The Movielife, Joyce Manor, Modern Baseball, Antarctigo Vespucci
"On their new album Problems—their first full-length in eight years—The Get Up Kids examine everything from life-changing loss to loneliness to the inevitable anxiety of existing in 2019. But by sustaining the essence of their sound—anthemic choruses with sing-alongready melodies—the band highlights those troubles as a shared experience, giving way to an unbreakable solidarity. And at the heart of Problems is an invaluable element the band's embodied since their 1997 debut Four Minute Mile: a penetrating lyricism that's both acutely introspective and indelibly resonant. The follow-up to 2018's Kicker EP, Problems came to life in Bridgeport, Connecticut, with the band holing up together for a three-week span. Working with Grammy Award-winning producer Peter Katis (Kurt Vile, Japandroids, The National), The Get Up Kids took a characteristically riff-driven yet decidedly pop-minded approach to song structure, while also allowing themselves a new sense of creative freedom. "At one point with this band, if we came up with something that felt too much like when we first started out, we would've said, 'No, we can't do that anymore,'" says Pryor. "These days we've learned how to write without roadblocking the ideas that come naturally to us.""