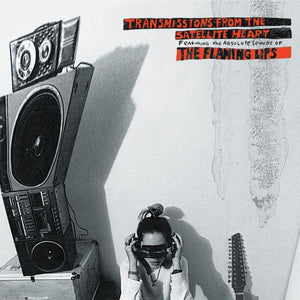 THE FLAMING LIPS - TRANSMISSIONS FROM SATELLITE HEART VINYL RE-ISSUE (LTD. ED. 140G BLACK & WHITE)
Regular price £19.99 £17.99 Sale
LIMITED EDITION 140G ASH GREY (BLACK & WHITE MIX) VINYL RE-ISSUE
Release Date: 6th November 2020
Limited edition re-issue of 6

th

 album from

 

Wayne Coyne & Co

. 

Transmissions

 

From

 

The

 

Satellite Heart featured the band's first major radio hit with the superb 'She Don't Use Jelly'. Flaming hits!
"Originally released in 1993, Transmissions From The Satellite Heart is the sixth studio album from American rock band, The Flaming Lips. The album is the first to feature members Ronald Jones and Steve Drozd after the departure of guitarist Jonathan Donahue and drummer Nathan Roberts. The album features what is arguably their first major radio single success, "She Don't Use Jelly" which was featured on MTV's Beavis and Butt-Head, nearly a year after release. The album was received positively by critics and fans alike, with Rolling Stone and Select giving it 4 out 5 stars, and AllMusic giving it 4.5 out of 5 stars, describing the album as "another prismatic delicacy that continues the group's drift toward pop nirvana"."