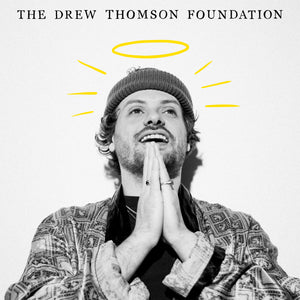 THE DREW THOMSON FOUNDATION - THE DREW THOMSON FOUNDATION VINYL (SUPER LTD. ED. 'HOT' PINK)
Regular price £19.99 Sale
SUPER LIMITED EDITION 'HOT' PINK VINYL
Release Date: 18th October 2019
Super limited edition pressing of only 400! Single Mother's frontman Drew Thomson gives us a softer side with his debut solo album,
 

The Drew Thomson Foundation. Don't worry - this is still a rock record. But it's more 90's indie pop-rock than the fast paced hardcore punk-rock of Single Mothers. It's poppy and catchy as hell - which can't be a huge surprise seeing as Single Mothers have always managed to fit in plenty of catchy hooks over the years - but fuck, this is a stuck in your head all day, all week, all month level of catchy! What an album. What a man!
For Fans Of: Single Mothers, Oso Oso, Great Grandpa, Strange Ranger
"The Drew Thomson Foundation's self-titled debut album follows a period of self-reflection and rectification to reveal surprising new sides of its songwriter. Produced by Alex Newport (At the Drive-In, City and Colour, Frank Turner) in his Los Angeles studio, its recording sessions found the Single Mothers frontman joined by bandmates and longtime collaborators to cultivate a collection of vulnerable lyrics into vivid, hook-laden anthems. Laying feelings bare on Thomson's newfound sobriety, the death of a loved one, and pushing away people who he wants to keep closest, it welcomes listeners on his journey towards inner peace. "I'm Drew Thomson, I like flip flops, adidas track pants, collecting guitars and Okkervill River. I like other things but right now that's what I really like. I have too many guitars that I can't play all that well but I like being around them. I like the way they look and they feel and they sit on their stands against the fireplace in my apartment that doesn't work. I've always liked touching a guitar, having it hang off me from it's strap like a dead limb – I've never been that great of a guitar player but that's fine and every day I keep picking the things up and making noise and writing words to that noise. I've done it almost every day since I was in grade 7 and I was given a Harmony Bobcat from my stepdad and mom in lieu of a drum set (which I really wanted) and I'll probably do it in some function until the day that I die,. It's just part of who I am. It's how I process life and diagnose feelings that like to hide wander around in those areas we don't like to go so much. Some songs are good and some songs aren't – but that shouldn't stop them from being written. I write. And if writing makes you a writer then I am a writer.""