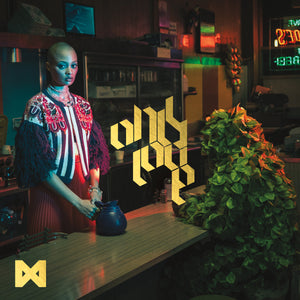 THE ARMED - ONLY LOVE VINYL (LTD. ED. NEON GREEN + 24-PAGE ZINE)
Regular price £22.99 Sale
LIMITED EDITION NEON GREEN VINYL + 24-PAGE ZINE
Release Date: 12th June 2020
Sargent House bring us a limited edition re-issue of The Armed's brain-melting epic from 2018, Only Love. Mixing the straight-up sounds of hardcore punk and metal with art and math-rock as well as experimental noise, The Armed create a unique level of headfuckery which will have you coming back for more like some sort of masochistic noise junkie! Give those ears a pummelling at your own risk.
For Fans Of/
You May Also Like: Converge, Lightening Bolt, Deafheaven, Russian Circles
"For their second LP Only Love, Detroit punk/hardcore/experimental collective THE ARMED returned to GodCity Studio to work with Converge guitarist Kurt Ballou as executive producer. Continuing their signature process of collaborating with different drummers on each release, this time THE ARMED recruited Ben Koller (Converge, Killer Be Killed, Mutoid Man, All Pigs Must Die). The partnership led to an entirely new creative approach for the record, one that allowed them to achieve their most wildly innovative work to date. The goal for "Only Love" was to reach an overwhelming level of intensity without referencing the typical tent poles of the genres they're associated with. By imagining they had never heard punk, metal or hardcore and limiting references to pop and the music of their youth, THE ARMED were able to arrive at an incredibly intense, but wildly unique reinterpretation of aggressive music. Upon Release, Only Love gained The Armed high praise from the likes of The Atlantic, NPR, Pitchfork, Rolling Stone, Noisey, AV Club and many more — landing on an intimidating amount of 'Best of 2018' year-end lists and garning an immense anticipation for their ensuing follow-up. Sargent House is thrilled to announce the addition of The Armed to the family of artists, with a special limited edition package vinyl pressing on neon green vinyl pressing of their seminal release. Expect more news to come from The Armed in 2020. A new album from The Armed will be released in 2020 on Sargent House. Music Video for "Role Models" (starring Tommy Wiseau) premiered via Adult Swim on-air debut. Videos for "Witness", "Nowhere to Be Found" and "Heavily Lined" also released to an incredible response. "Part of the thrill of these 11 songs is that they often sound like they're about to burst or implode, but they never lose their course. From opening synth line to closing noise implosion, it's part relay race, part punk-rock opera." PITCHFORK [8.1] // "Listen to any song by The Armed and it's like the band burned the punk rule book, stirred the ashes into a smoothie, sucked it up in a straw, vomited and gave it a title (but in a good way!)." NPR // "Only 2 Love's big secret is that it's a pop record masquerading as a hardcore album " NOISEY [#8, Best Albums of 2018] // These Detroit screamers mixed the sunnier side of blackgaze with the harsh yowls of vintage hardcore, the cheery fuzz of electro-noize and the triumphant melodies of Hüsker Dü. ROLLING STONE [#20, Best Metal albums of 2018] // "when listening is this thrilling, you know it's a product of only love" THE ATLANTIC [Best Albums of 2018]"