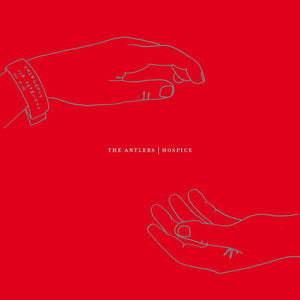 THE ANTLERS - HOSPICE VINYL (LTD. 10TH ANNIVERSARY ED. WHITE 2LP GATEFOLD)
Regular price £19.99 Sale
LIMITED 10TH ANNIVERSARY EDITION WHITE 2LP VINYL GATEFOLD W/ NEW ARTWORK
Release: 8th March 2019
A remastered, newly presented limited 10th anniversary edition of The Antlers break-through album Hospice, which was a hit across the board and a heavy feature in album of the year lists from 2009. Re-live the incredible, sad beauty that is swept across the entirety of Hospice once again or experience this masterful album (in the true sense of the word) for the first time!
For Fans Of: Wolf Parade, Broken Social Scene, Youth Lagoon, Destroyer
"The Antlers immense and wildly popular debut album, Hospice, finally receives a proper widespread release through French Kiss. The album is a skyscraping blend of the ambient, passionate and anthemic. It sits somewhere between Antony Hegarty vocally, Bon Iver in the quiet moments and a schizophrenic Radiohead. Hospice resonates on debilitating sonic and lyrical levels, from the hypnotic harp and tension-ratcheting build of Two to the sing-or-sink choruses of Bear and the speaker-rattling peaks of Sylvia,. however it's Kettering that is the real show stopper as it's drenched in atmosphere and sorrow - one of the most beautiful and moving tracks in years."