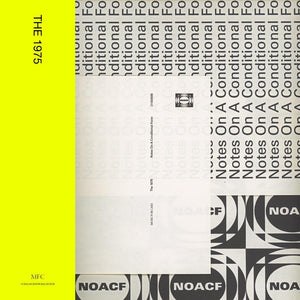 THE 1975 - NOTES ON A CONDITIONAL FORM VINYL (LTD. ED. TRANSPARENT 2LP GATEFOLD)
Regular price £36.99 Sale
LIMITED EDITION TRANSPARENT 2LP VINYL GATEFOLD ON 100% RECYCLED CARD
Release Date: 29th May 2020

The most relevant and important British band right now are back after their critically-acclaimed and award-winning 2018 album, A Brief Inquiry Into Online Relationships. Notes On A Conditional Form means business from the get-go with the opening track featuring Greta Thunberg's address to the world on climate change. This is followed up by a shouty punk-rock number, a cinematic-score style flourish, and then a track that can only be described as 'if Burial made pop music' - this, in a nutshell, is The 1975. The album also includes the likes of Phoebe Bridgers, fka twigs, and DJ Cutty Ranks, as well as a joke Pinegrove imitation and a nod to Wilco. Utterly enthralling and definitely never a dull moment with these chaps - this band are postmodernity in motion!
FFO: Phoebe Bridgers, The Japanese House, FKA twigs, bloody everything!
"The 1975 deliver the follow up to BRIT Award Album of the Year winner 'A Brief Inquiry Into Online Relationships' on 21st February 2020. The band's 4th album 'Notes On A Conditional Form' is set to be already the most anticipated album of 2020 and features the lead single 'People' and the Greta Thunberg call to arms album opener, 'The 1975.' The band are working to reduce as much plastic as possible on the manufacture of product, as such the albums will not be shrink-wrapped."