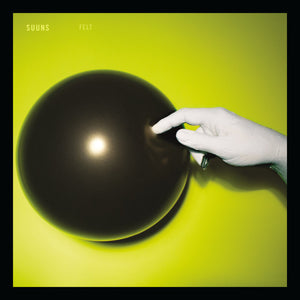 SUUNS - FELT VINYL (LTD. ED. CLEAR)
Regular price £19.99 £14.99 Sale
LIMITED EDITION CLEAR VINYL
Release Date: 2nd March 2018
The Canadian alt-rockers are back with their unique and avant-garde mixture of indie-rock, krautrock, shoegaze and electronica, which is one heavy but satisfying tonic! Felt is a claustrophobic, intense jam-fest of a record - like being in a dark, sweaty basement room of a fever dream. Luckily there are enough melodic touches to keep it from being dragged fully into the abyss!
FFO: Radiohead, Autolux, Ulrika Spacek, Snapped Ankles
"Suuns release their new album, Felt, on Secretly Canadian. You can hear this freedom flowing through the 11 tracks on Felt. It's both a continuation and rebirth, the Montreal quartet returning to beloved local facility Breakglass Studios (where they cut their first two albums (Zeroes QC and Images Du Futur) with Jace Lasek of The Besnard Lakes) but this time recording themselves at their own pace, over five fertile sessions spanning several months. A simultaneous stretching out and honing in, mixed to audiophile perfection by St Vincent producer John Congleton (helmer of Hold/Still), who flew up especially from Dallas to deploy his award-winning skills in situ. Suuns are proud of their roots in Canada's most socialist province, while sonically standing apart from Quebec's string-swept, accordion-driven, choral chamber indie scene. Quebecois natives Shemie and Joseph Yarmush founded the group just over a decade ago, the latter having moved to Montreal from a nearby village. The only member not to be formally schooled in jazz, guitarist Yarmush studied photography and utilized his visual training to help realize Shemie's novel concept for the eye-catching album artwork."