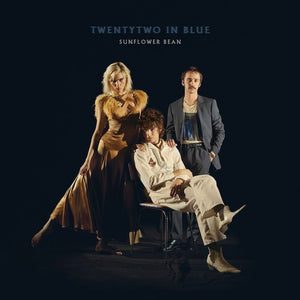 SUNFLOWER BEAN - TWENTYTWO IN BLUE VINYL (LTD. ED. BLUE)
Regular price £19.99 £11.99 Sale
LIMITED EDITION BLUE VINYL
Release Date: 23rd March 2018
The New York three-piece return with the follow-up to their 2016 debut album,
 

Human Ceremony. Their debut was written when the band were still in their teens and the progression and maturity of their song-writing is obvious on the aptly named

 

Twentytwo In Blue. The band have moved away for the psych-rock and closer to the classic-rock of their influences and there is a heavy, heavy dose of Fleetwood Mac throughout the record with singer 

Julia Cumming's incredible voice taking centre stage!
FFO: Fleetwood Mac, Haim, Hinds

"The new album comes almost two years and two months after the release of their critically acclaimed 2016 debut album Human Ceremony. Co-produced by Unknown Mortal Orchestra's Jacob Portrait (who also mixed the record) and HC-producer Matt Molnar of Friends, Twentytwo in Blue shows Sunflower Bean stay true to their guitar band core and classic rock-inspired roots, while exploring new sonic textures with more direct and progressive themes. Unlike their debut, which was essentially a compilation of songs Sunflower Bean wrote while still in their teens, Twentytwo in Blue was made in the year between December 2016 and December 2017 and showcases how far the band has come since playing together in their high school days. Sunflower Bean find a sublime maturity and progression to their sound and songwriting on Twentytwo in Blue. If there was a ragged beauty in the gauzy, groovy wall of sound of Human Ceremony, there's a new directness to these songs, a product of the band's growth and the insanity of the times we're in. Sunflower Bean have gained a newly confident voice that they bring to the second album, one that doesn't shy away from addressing the other events of those two years—political changes and cultural shifts that have left America and the world stupefied."