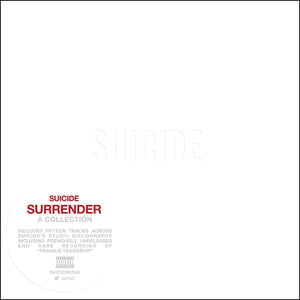 SUICIDE - SURRENDER VINYL (LTD. ED. BLOOD RED 2LP)
Regular price £34.99 Sale
LIMITED EDITION BLOOD RED 2LP VINYL
Release Date: 8th April 2022


"This brand new, remastered collection spans Alan Vega & Marty Rev's forty year career and serves as an introduction to their raw, eclectic and inspiring catalogue. Although the band barely received any credit during their career, Suicide are cited as one of the most inspirational bands of the 1970s, influencing the likes Soft Cell, Depeche Mode and The Jesus And Mary Chain, whilst garnering fans in Nick Cave, Jim Thirlwell, M.I.A., Spiritualized, Lydia Lunch, Bobby Gillespie and Savages to name a few.
"SUICIDE MADE SOME OF THE COOLEST, MOST UNCOMPROMISING MUSIC EVER INFLICTED ON OUR SPECIES. THIS GATHERING OF SONGS IS NOT A "BEST OF" NOR IS IT A "DEFINITIVE" ALL-YOU-NEED-TO-KNOW COMPILATION. IT IS AN INTRODUCTION THAT WILL HOPEFULLY COMPEL YOU TO EXPLORE THE ALBUMS." Henry Rollins, Surrender.
Presented as a limited edition double album, on 140g Blood Red Vinyl in an embossed outer and mirror board inner gatefold, this unique package also contains a set of brand new, extensive and extraordinary liner notes by long serving fan/collaborator and NYC stalwart Henry Rollins. "