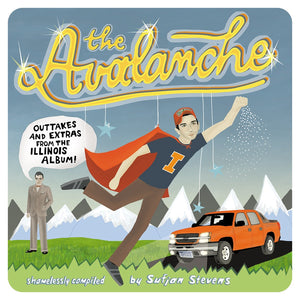 SUFJAN STEVENS - THE AVALANCHE VINYL (LTD. ED. 'HATCHBACK' ORANGE & 'AVALANCHE' WHITE 2LP VINYL)
Regular price £23.99 £19.99 Sale
LIMITED EDITION 'HATCHBACK' ORANGE & 'AVALANCHE' WHITE 2LP VINYL
Release Date: 31st August 2018
Limited edition coloured first vinyl release of Sufjan Stevens' 2006 counter-part to his breakthrough album
Come On Feel The Illinoise a year earlier. Only Sufjan could make an 'outtakes and extras' record be this brilliant and also nearly as long as the original! The Avalanche includes some absolute crackers on it that would have been firm favourites on the initial Illinoise record, as well as three incredible alternative versions of his most famous track from Illinoise, 'Chicago'. This is a must-have for any Sufjan fan, but in particular for those who's favourite Sufjan-era is the Illinoise-era.
For Fans Of: Broken Social Scene, S. Carey, The Antlers, Iron and Wine
"The little secret behind the Illinois record is that it was originally conceived as a double album, culminating in a musical collage of nearly 50 songs. But as the project began to develop into an unwieldy epic, common sense weighed in - as did the opinions of others - and the project was cut in half. but as 2005 came to a close, Sufjan returned to the old, forsaken songs on his 8-track like a grandfather remembering his youth, indulging in old journals and newspaper clippings. What he uncovered went beyond the merits of nostalgia; it was more like an ensemble of capricious friends and old acquaintances wearing party outfits, waiting to be let in at the front door, for warm drinks and interesting conversation. among them were Saul Bellow, Ann Landers, Adlai Stevenson, and a brief cameo from Henry Darger's Vivian Girls. The gathering that followed would become the setting for the songs on The Avalanche: Outtakes and extras from the Illinois album. Sufjan gleaned 21 useable tracks from the abandoned material, including three alternate versions of Chicago. Some songs were in finished form, others were merely outlines, gesture drawings, or musical scribbles mumbled on a hand-held tape recorder. most of the material required substantial editing, new arrangements or vocals. Much of the work was done at the end of 2005 or in January the following year. Sufjan invited many of the original Illinoisemakers to fill in the edges: drums, trumpet, a choir of singers. The centerpiece, of course, was the title track - The Avalanche - a song intended for the leading role on the Illinois album but eventually cut and placed as a bonus track on the vinyl release."