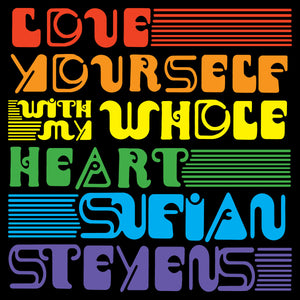 SUFJAN STEVENS - LOVE YOURSELF / WITH MY WHOLE HEART VINYL (LTD. ED. 'TIE-DYE' 7")
LIMITED EDITION 'TIE-DYE' COLOURED 7" VINYL
Release Date: 28th June 2019
The multi-talented musical master that is Sufjan Stevens returns for a special two track 7" to celebrate Pride Month, with a portion of proceeds going to charities and organisations that support LGBTQ and homeless kids in America. 'Love Yourself' is a track originally written back in 1996 and here he provides us with a newly recorded re-imagining of it that is classic blurring of the lines between folk and electronica Sufjan, plus the original 96 demo and an instrumental reprise. Plus an entirely new track in 'With My Whole Heart' - which as Sufjan describes it himself, is an upbeat sincere love song. Love thyself!
FFO: The Antlers, Beirut, Perfume Genius, The National
"In celebration of Pride Month, Sufjan Stevens is releasing two new songs today on the topic of love: 'Love Yourself' and 'With My Whole Heart', available on limited-edition 7" vinyl and on all digital platforms, via Asthmatic Kitty. A portion of the proceeds from this project will go to two organisations that provide support for LGBTQ and homeless kids in America—the Ali Forney Center in Harlem, NY and the Ruth Ellis Center in Detroit, MI. 'Love Yourself' is based on a sketch Stevens wrote 20 years ago. The original 4- track demo he recorded in 1996 is included as well as a short instrumental reprise. 'With My Whole Heart' is a completely new song that Stevens wrote as a personal challenge to "write an upbeat and sincere love song without conflict, anxiety or self-deprecation.""