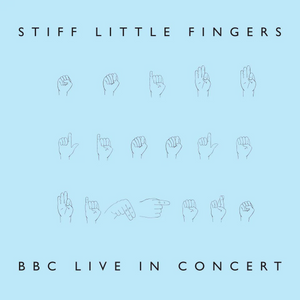 STIFF LITTLE FINGERS - BBC LIVE IN CONCERT (LIVE IN NORWICH) VINYL (SUPER LTD. ED. 'RECORD STORE DAY' CURACAO 2LP)
Regular price £41.99 Sale
SUPER LIMITED EDITION 'RECORD STORE DAY' CURACAO 2LP VINYL
Available from Saturday 23rd April in-store on the day only. Strictly 1 per customer. Any remaining stock will be made available online at 6pm.
STRICTLY 1 PER CUSTOMER - ANY MULTIPLE ORDERS WILL NOT BE FULFILLED AND WILL INCUR REFUND FEES
Release Date: 23rd April 2022

"Stiff Little Fingers "BBC Live In Concert" features two high energy performances from these very influential Northern Irish punk rockers, recorded for the BBC. Fronted by singer and guitarist Jake Burns, the first LP of this 2LP set kicks off with "Roots, Radicals, Rockers & Reggae" from their "Go For It" album, recorded at London's Paris Theatre in 1981, a venue used for many classic BBC In Concerts. The second LP features an equally raucous show captured at Norwich's University of East Anglia in the UK in front of a highly appreciative crowd. Recorded a year after the Paris Theatre show, the 1982 set starts with "Tin Soldiers" and ends with "Gotta Getaway.""