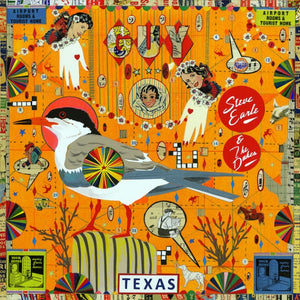 STEVE EARLE AND THE DUKES - GUY VINYL (LTD. ED. 150G BLUE 2LP GATEFOLD)
Regular price £22.99 £17.99 Sale
LIMITED EDITION 150G BLUE 2LP VINYL GATEFOLD
Release Date: 29th March 2019
American songwriter, actor and writer Steve Earle and his Dukes present a tribute album to the late, great Guy Clark who passed away in 2016. Clark was a mentor and hero to Earle when he first started out in Nashville in the 1970's. Guy may be made up of covers, but Earle and the Dukes creates their own heartfelt and moving renditions sticking to Clark and their country roots but adding a full-band Americana rock element to them. An incredible tribute to an incredible man.
FFO: Guy Clark, Townes Van Zandt, Bill Callahan, Peter Oren
"Steve Earle was nineteen and had just hitchhiked from San Antonio to Nashville in 1974. Back then if you wanted to be where the best songwriters were, you had to be there. Guy Clark had moved to Nashville and if you were from Texas, Guy Clark was king. Years later, Steve would be playing bass guitar in Guy's band and flying high on what would become an indelible friendship of like- minded musicians who bonded in a kinship of stories told through song. Flash forward more than forty years to May 2016. Guy Clark had just succumbed to cancer after a long battle with Lymphoma. Guy had lived with his disease and had continued to write songs until the day he died. He also painted, built instruments and owned a guitar shop in the Bay Area. According to Earle, "You hung around with him [Guy] and knew why they call what artists do disciplines. Because he was disciplined." The same can be said of Earle. In the fall of 2018, Steve and The Dukes went into House Of Blues studio in Nashville and recorded 'Guy' in six days. "I wanted it to sound live... When you've got a catalog like Guy's and you're only doing sixteen tracks, you know each one is going to be strong." Earle and his current, perhaps best-ever, Dukes line up take on these songs with a spirit of reverent glee and invention. The tunes are all over the place and so is the band, offering max energy on such disparate entries as the bluegrass rave- up 'Sis Draper' and the talking blues memoir of 'Texas 1947'. Earle's raw vocal on the sweet, sad 'That Old Time Feeling' is heartbreaking, sounding close enough to the grave as to be doing a duet with his late friend and mentor. You can hear little hints of where Earle came from. The stark 'Randall Knife' has the line "a better blade that was ever made was probably forged in Hell," which wouldn't be out of place in a Steve Earle original. Also hard to beat is 'The Last Gunfighter', a sardonic Western saga to which Earle offers a bravura reading of the chorus: "the smell of the black powder smoke and the stand in the street at the turn of joke." In the end, however, 'Guy' leads the listener back to its beginning, namely Guy Clark, which is what any good 'tribute' should do. 'Guy' is a saga of friendship, its ups and downs, what endures. We are lucky that Earle remembers and honours these things, because like old friends, 'Guy' is a diamond."