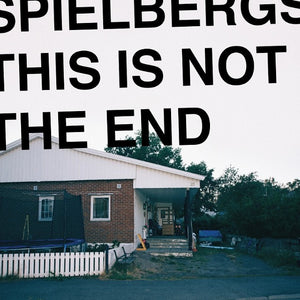 SPIELBERGS - THIS IS NOT THE END VINYL (LTD. ED. TRANSPARENT YELLOW/ STANDARD BLACK)
Regular price £19.99 Sale
VERSION 1: LIMITED EDITION TRANSPARENT YELLOW VINYL
VERSION 2: STANDARD BLACK VINYL
Release Date: 1st February 2019
The Norwegian rockers bring us their debut album full of shout-along, fists in the air guitar-bangers in a similar vein to Japandroids, just with that Scandi-cool swagger about it. We hope 'this is not the end' for a band at the start of something seriously sensational! 
For Fans Of: Japandroids, Beach Slang, Cloud Nothings, Pkew Pkew Pkew
""Ever hear a new band that's so truly, madly, and deeply your shit that it seems like a prank?" - Ian Cohen - Stereogum / Pitchfork. This Is Not The End is the much anticipated debut album from Oslo's Spielbergs coming February 1st 2019 and follows the release of their breakthrough Distant Star EP earlier this year which saw them reach no.1 on Hype Machine as most blogged about band in the world."