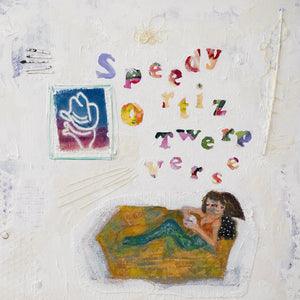 SPEEDY ORTIZ - TWERP VERSE VINYL (LTD. ED. PINK W/ RAINBOW SPLATTER GATEFOLD + BONUS 7" & POSTER)
Regular price £19.99 £16.99 Sale
LIMITED EDITION PINK W/ RAINBOW SPLATTER GATEFOLD VINYL + BONUS 7" & POSTER
Release Date: 27th April 2018
The American indie-rock band led by singer-songwriter guitarist Sadie Dupuis are back with their third album which is their most urgent and electronic thus far. The band are still heavily purveying the 90's indie and slacker rock they hold dear, but are pushing their boundaries to incorporate more styles and sounds to compliment it. There's still just as much guitar and distortion, just with more synths, drum machines and experimental noise. Yet another expert album from these guys!
For Fans Of: Pavement, Aye Nako, Bully, Mitski
"'Necessary brattiness' is the motto for Speedy Ortiz's dauntless new collection of songs, Twerp Verse, out via Carpark Records. The follow-up to 2015's acclaimed Foil Deer, the band's latest indie rock missive is prompted by a tidal wave of voices, no longer silent on the hurt they've endured from society's margins. But like many of these truth-tellers, songwriter, guitarist and singer Sadie Dupuis scales the careful line between what she calls being "outrageous and practical" in order to be heard at all. Twerp Verse, Speedy's third album and first with Philadelphian Andy Molholt (Laser Background) on second guitar, is urgent and taut, adding surprising textures like Linn drums and whirled guitar processing to their off- kilter hooks. The band's camaraderie and crate-digging is evident, with diffuse reference points like Squeeze, Hop Along, Prince, Paramore, and Brenda Lee being sucked into the band's chaos. Even when Dupuis sings of alienation and political weariness, the pop maelstrom swirling around her provides a defiantly charged, mussed-but-hooky optimism."