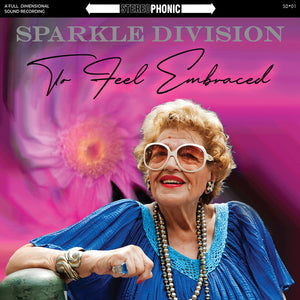 SPARKLE DIVISION - TO FEEL EMBRACED VINYL (LTD. ED. HONEYSUCKLE COLOURED)
Regular price £24.99 Sale
LIMITED EDITION HONEYSUCKLE COLOURED VINYL
Release Date: 23rd October 2020
Experimental musician and composer, William Basinski, teams up with a young protégé and his former studio assistant, Preston Wendel, who is a budding composer himself. What resulted was Sparkle Division and their debut album To Feel Embraced – a psychedelic mixture of electronica, disco, lounge, jazz and techno. Sparkling!
FFO: William Basinski, Jupiter Jax, Sam Prekop, Botany 
"A vibrant electronic fusion of lounge, jazz, and disco is maybe not the first (or fifth) thing you would expect to hear from one of the world's most renowned modern composers and ambient tape loop pioneers, but upon first listen, it makes so much sense that one wonders why it didn't happen sooner. After years of producing and mentoring slews of young artists in 1990s Williamsburg, Brooklyn, William Basinski moved to Los Angeles. There he hired a young studio assistant, Preston Wendel, who eventually introduced his own works to the curious composer. That spawned a creative partnership that inspired Wendel to persuade Basinski to haul out his saxophone. Five years later, SPARKLE DIVISION has arrived with their enchanting debut album, To Feel Embraced. Produced by SPARKLE DIVISION at Basinski's Musex International in Los Angeles, the duo were joined by a few notable friends: Mrs. Leonora Russo (who Basinski affectionately calls "the true Sicilian Sparkle Division, my Brooklyn Mom, the Queen of Williamsburg") offers her sparkling voice to "Queenie Got Her Blues"; fabled free-jazz icon and genuine bodhisattva, the late Henry Grimes, contributed upright bass and violin to the aptly-named "Oh Henry!" ("Lotta babies gonna be born from this one," Henry and Margaret Davis Grimes playfully declared); and London vocalist Xeli Grana offers her ethereal voice to the album's meditative title track."