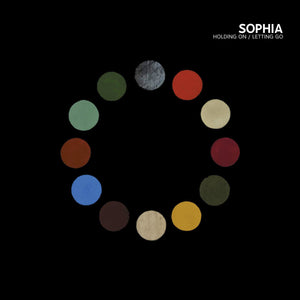 SOPHIA - HOLDING ON / LETTING GO VINYL (SUPER LTD. ED. RANDOM COLOUR)
Regular price £27.99 Sale
SUPER LIMITED EDITION RANDOM COLOUR VINYL
Release Date: 9th October 2020
The 7
th
 studio album under his Sophia moniker from the former member of the 90's noise-rock band The God Machine, Robin Proper-Sheppard. 
Holding On / Letting Go
 is a heartfelt nostalgic 
wonderpiece
 with nods to many forms of rock music from 90's indie, post, space, psych, prog and shoegaze. Worth holding on to this one!
FFO: The God Machine, The Electric Soft Parade, Thurston Moore, Spiritualized
"Robin Proper-Sheppard (of 90's noise-rock legends The God Machine) returns with Sophia's 7th studio album featuring his new collective of road-wisened multiinstrumentalists (now often referred to as Sophia 2.0) and yet again somehow manages to balance his whis-per-soft acoustic melancholy with great swathes of dirt, noise and aggression and still sound distinctly Sophia. Includes singles 'Undone Again', 'We See You (Taking Aim)' and 'Alive' featuring maestro Terry Edwards (Nick Cave, PJ Harvey) on saxophone."