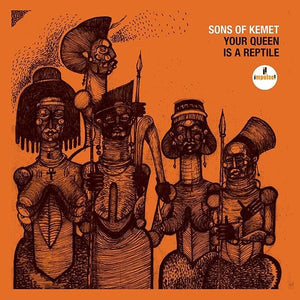 SONS OF KEMET - YOUR QUEEN IS A REPTILE VINYL (2LP GATEFOLD)
Regular price £20.99 Sale
2LP VINYL GATEFOLD
Release Date: 30th March 2018
The third album and first for Impulse Records from the London-based jazz group let by the brilliant clarinetist, saxophonist and composer Shabaka Hutchings who is a fixture of multi other jazz bands and collectives including The Comet Is Coming, The Ancestors, and occasionally as a guest player with the Sun Ra Arkestra. Sons of Kemet conjure up cosmic, afrobeat inspired jazz that channels Afro-Caribbean culture with a heavy dub influence throughout. Your Queen is a Reptile is a celebration of Afro-Caribbean history with each track being dedicated to a different powerful and influential Afro woman (including Hutchings' own great-grandmother!). A superb album and sure to top a lot of 'Album of the Year' lists come the end of the year so do yourself a favour and check this out if you haven't already.
For Fans Of: The Comet Is Coming, Sun Ra Arkestra, Fela Kuti, Mammal Hands
"Sons Of Kemet are born of many vital elements – including a name that nods to ancient Egyptian culture, and a line-up that comprises some of the most progressive 21st-century talents in British jazz and beyond. Band-leader, composer and sax and clarinet don Shabaka Hutchings (himself named after a Nubian pharaoh-philosopher) brings together his fiery vision alongside London based bandmates Tom Skinner and Seb Rochford (forming a dynamo duo on drums here) and latest addition Theon Cross (taking over from Oren Marshall on tuba). Taking inspiration from such diverse sources as the Afro-Caribbean carnival tradition and contemporary UK club culture of grime and dubstep, Your Queen Is A Reptile is party music with a purpose – like Fela Kuti and James Brown. The title itself is an attack on the concept of lineal superiority, the absurdity of the notion that one can possibly be more deserving by birthright. In his song titles, Hutchings offers alternate queens, powerful and influential Afro women from the famous to the familial (Ada Eastman of album opener My Queen Is Ada Eastman is Hutchings' great-grandmother). With the group's drum interplay and tuba driven basslines, one can't help but be reminded of New Orleans' brass band and second-line traditions, yet the reference points here lie further to the Southeast, deep in Hutchings' Afro-Caribbean heritage. Poet Joshua Idehen's vocals on the opener are reminiscent of another brilliant British artist from the Afro-Caribbean diaspora, Linton Kwesi Johnson. Delivered with dramatic pacing and power, Idehen confronts themes of racism in contemporary London. My Queen Is Nanny Of The Maroons begins with a Nyabinghi-esque drum pattern – a nod to the spiritual music of the Rastas which was itself derived from the musical traditions of African slaves brought to Jamaica in the 17th and 18th century – while My Queen Is Angela Davis, perhaps the most "spiritual jazz" leaning track here, is informed by the Afro-centric sounds of late '60s America. It is these subtle allusions within Your Queen Is A Reptile that show Hutchings is not simply listing off names he read in a book, but rather he is paying homage to women that deeply inform his political views, compositional personality, his very self-identity."