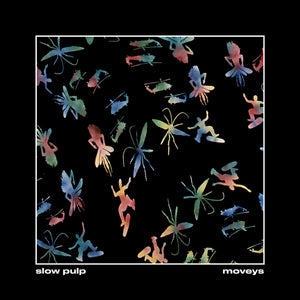 SLOW PULP - MOVEYS VINYL REPRESS (LTD. ED. NEON GREEN + BONUS 7")
Regular price £20.99 Sale
LIMITED EDITION NEON GREEN + BONUS 7" VINYL
Release Date: 8th October 2021
The debut album from the hard-working Chicago-based indie-pop-rock band Slow Pulp, which had to be finished remotely as the COVID-crisis hit! The in-joke named result, Moveys, is a beautiful mixture of indie, pop and folk variations on rock with a lo-fi bedroom-rock, countrified edge and some quirky electronic touches à la Alex G (whom they toured with when that was a thing bands did). And 'At It Again' is the perfect lo-fi indie-rocker within 2 minutes you'll hear this year! Moved.
FFO: Alex G, Hovvdy, Trace Mountains, Forth Wanderers

"Slow Pulp's remarkable full-length debut Moveys is a testament to hard-fought personal growth. In the process of making their new record, the Chicago-based indie rock band powered through health challenges, personal upheaval, and a pandemic, all while learning how to be better songwriters and friends. Full of blistering energy and emotional catharsis, this compelling 10-track collection highlights the band's resourcefulness and resilience to come together even when they were states away. As the band was in the midst of finishing the album, Massey's parents got in a severe car accident forcing her to pause recording and return home to Madison and take care of them. A week later, the COVID-19 pandemic hit. "I wasn't able to come back to Chicago for a while. How were we going to finish this apart from each other?" thought Massey. With Stoehr leading engineering, mixing, and production duties, the band managed to continue recording in an isolated, post-COVID world. "Thankfully most instrumentals were already written. Alex and Henry and I were all able to do that separately from a studio space that we rent in Chicago," says Mathews. As Massey's father Michael recovered from his injuries, the two worked on completing her vocal takes from his home studio, sending them to Stoehr for mixing. "Finishing this record was such a cool thing to know that we were able to do it," says Stoehr. Their made-up word "moveys" is multi-faceted for Slow Pulp. It is an invitation to dance. It is a wink at the cross-country nature of the album's songwriting process, while the bandmates were literally on the move touring, sheltering in place, and going through major life changes. But, mostly, it's an inside joke. Listening to these warm, dynamic and welcoming songs, it's easy to feel like you're a part of it too."