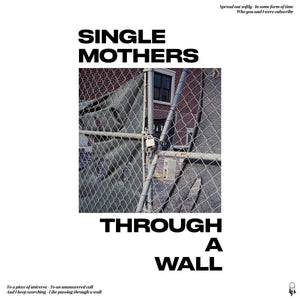 SINGLE MOTHERS - THROUGH A WALL VINYL (LTD. ED. BLACK)
Regular price £18.99 Sale
LIMITED EDITION BLACK VINYL
Release Date: 26th October 2018
Limited edition press of only 300! The Canadian hardcore punks are back with their heaviest, loudest and most brutal set of tracks yet that will make you want to start a mosh-pit immediately. Fast, frantic and fucking fantastic! *WARNING* listening to this will literally make you want to run 'through a wall'.
For Fans Of: Drug Church, Xerxes, Frameworks, Hot Snakes
"Canadian post-hardcore, punk heavyweights Single Mothers have returned with their new album, Through A Wall. Recorded with the core duo of frontman Drew Thomson and producer/percussionist Ian Romano (Attack In Black, Career Suicide, City & Colour) along with a rotating cast of musicians, Through a Wall is packed top to bottom with blistering riffs, breakneck tempo shifts, and mosh-ready breakdowns - 14 raging tracks that revive the sound of the bands earlier output."