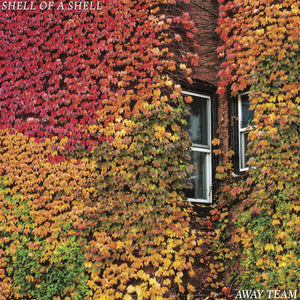 SHELL OF A SHELL - AWAY TEAM VINYL (LTD. ED. ORANGE IMPORT)
Regular price £19.99 £16.99 Sale
LIMITED EDITION ORANGE VINYL IMPORT

Release Date: 28th February 2020
The debut album, on Exploding In Sound Records, from the Nashville rockers led by the Pile and Gnarwhal member Chappy Hull, is a brilliant blend of powerful post-hardcore, gnarly noise rock and early emo melodics and motifs. Away Team will crush you then build you back together, before doing the whole thing over again! 
For Fans Of/You May Also Like: Pile, Krill, Peaer, Modern Rituals
"Dissonant and complex, Nashville's Shell of a Shell, lead by Chappy Hull (Pile, Gnarwhal), use their music to pivot between overwrought feelings and the kick in the teeth needed to get up and keep going. They rip through swirling and jittery sonic bliss and crushing celestial dirges, flexing their capabilities through polyrhythmic nuance and tangled melodic introspection. 'Away Team' is a very personal record, built on internal feelings of doubt, guilt, reflection, and unshakeable depression. It's not all bummed out though, Shell of a Shell work a muscular fury in to their songs, pummeling their way through shifting moods and a glimmering hope for humanity. As thoughts swirl around, the mix of light and dark is what saves us all from sinking too deep. 'Away Team' is blistering with post-hardcore energy, built on elements of noise rock and old-school emo, the band juxtapose a sensitive touch with their propulsive depths and immersive structures. There's a duality to the album in both the songwriting itself and the ability to just let go and let things wander, as the first half of the record is short and concise, the second half is expansive but tight and focused, exploring extended timeframes to build nuance and set tone. Due out February 28th via Exploding In Sound Records, the band are set to tour this Spring. With their incredible full length debut, Shell of a Shell are letting us view behind the curtains; highs and lows explored with a musical dexterity that goes far beyond their years."