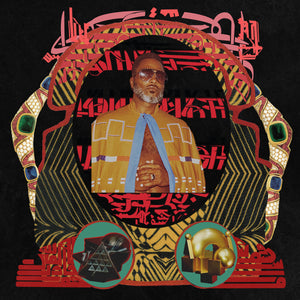 SHABAZZ PALACES - THE DON OF DIAMOND DREAMS VINYL (LTD. 'LOSER' ED. SKY BLUE)
Regular price £21.99 Sale
LIMITED 'LOSER' EDITION SKY BLUE VINYL
Release Date: 17th April 2020
The 5th album from the hip-hop collective from Seattle, led by rapper, producer and songwriter Ishmael Butler (Knife Knights). The Don Of Diamond Dreams is the latest evolution from Shabazz in conscious, left-field hip-hop for which they have been the bar-raiser in recent times. The Don! 
For Fans Of/You May Also Like: Knife Knights, clipping, Death Grips, Naeem 
"Shabazz Palaces' 'Black Up', the group's Sub Pop debut, was recently hailed as one of the best albums of the decade by outlets like Pitchfork, Gorilla Vs Bear  and Variety. Pitchfork summed it up thusly: "'Black Up' is drowned in murky instrumentals and bombastic, introspective rhymes. The sounds flirt with jazz but also root themselves in a firm understanding of silence, or the sparse magic of simplicity. The songs teem with unexpected climaxes... From great mystery exploded an album of impossible vision." That 'impossible vision' has continued to confound and engage Shabazz Palaces fans over the course of four acclaimed albums and two EPs. Each release feels like an evolution, letting the music speak for itself, while slowly revealing more about its creator. With 'The Don Of Diamond Dreams', the group's fifth album, that spirit remains, this time embracing modernism in hip hop and rap. Featuring 10 tracks in 43 minutes,  the album features the highlights 'Fast Learner (ft. Purple Tape Nate)', 'Chocolate Souffle', 'Bad Bitch Walking (ft. Stas THEE Boss)' and 'Thanking The Girls'. It also features contributions from singer/keyboardist Darrius Willrich, Seattle's OCnotes (who collaborated with Shabazz leader Ishmael Butler on the Knife Knights project), Los Angeles musician Carlos Overall and bassist Evan Flory-Barnes. 'The Don Of Diamond Dreams' was recorded throughout 2019 and produced by Shabazz Palaces at Protect and Exalt: A Black Space in Seattle, mixed and engineered by Erik Blood at Studio 4 Labs in Venice, California and mastered by Scott Sedillo at Bernie Grundman Mastering in Los Angeles."