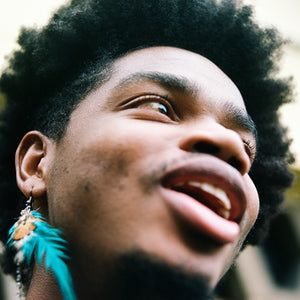 SEQUOYAH MURRAY - PENALTIES OF LOVE VINYL (LTD. ED. BLUE)
Regular price £14.99 £9.99 Sale
LIMITED EDITION BLUE VINYL
Release Date: 3rd May 2019
The debut mini-album from American vocalist, producer and multi-instrumentalist Sequoyah Murray who fuses his love of East African music and that of the lost genius of Arthur Russell into one compelling sound. 'Love' it!
FFO: Arthur Russell, Spellling, serpentwithfeet, Yves Tumor
"'Penalties Of Love' is the debut mini album from 21- year-old vocalist, multi-instrumentalist and producer Sequoyah Murray. It is a remarkable debut, striking in its maturity and originality. Writing deeply confessional lyrics and creating abstract textured song structures, Sequoyah is a product of his time, place and borderless generation, making music that is both wildly experimental and unforgettably accessible, his lyrics proudly recasting his vulnerabilities as strengths. He was born into a musical family Atlanta, Georgia, one of the music capitals of the world: his mother is a singer and his father a percussionist, both having spent their lives as creative musicians. If his first loves were the east African music introduced to him by his father and his mother's sumptuous falsetto, the booming baritone of Arthur Russell became one of his oldest friends and most important touchstones. Just like Russell, his music is at once a self-created world and the result of deeply organic collaboration. While Sequoyah serves as his own producer, he enlisted the help of acclaimed producer and remixer James Ginzburg (Empstyset, Ginz, Bleed Turquoise) and David Corney to mix. His family also contributed, with his father's drumming throughout and his mother and little brother singing on 'Penalties Of Love' and 'Second Born' respectively."