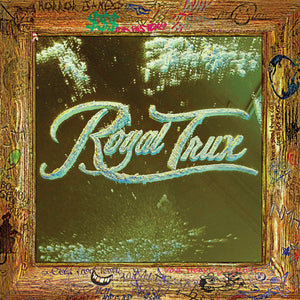 ROYAL TRUX - WHITE STUFF VINYL (LTD. ED. 'PIZZA' COLOURED)
Regular price £18.99 £11.99 Sale
LIMITED EDITION 'PIZZA' COLOURED VINYL
Release Date: 1st March 2019
The first album in nearly 20 years from the alternative 90's cult heroes Royal Trux, aka Jennifer Herrema and Neil Hagerty. White Stuff takes over where they left off with a mind-meddling mix of scuzzy, psych, punk and garage rock with a touch of metal, electro, and even hip-hop. Royal Trux are still sounding fresh and relevant even after all these years! 
FFO: Stephen Malkmus, Ex Hex, Superchunk, Cherry Glazerr
"Royal Trux just announced their first album of new songs since 2000's Pound for Pound slated for release on March 1st via Fat Possum. The new album White Stuff not only maintains the magic chemistry between Jennifer Herrema (vocal, moog, guitar, melodica) and Neil Hagerty (vocal, guitar) but expands upon it greatly with their natural ability to give us something unexpected, necessary, and truly unique. Their own formidable and informed imaginations.... the same two creative minds that brought us (to name a few) Twin Infinitives, Cats and Dogs and Accelerator, are present in the unadulterated, exhilarating energy that has the album listed on Pitchfork and Stereogum's most highly anticipated albums of 2019 lists. The newest single they are sharing, "White Stuff," follows on the heels of the recently released "Every Day Swan" and "Get Used To This" (featuring Kool Keith). Their lengthy recording break has done nothing to diminish their visionary, visceral intensity and enduring influence. We are incredibly excited to be sharing what they've cooked up in their collaborative kitchen and know we are most definitely not alone in this enthusiasm. For the "band", it has been a natural, fluid return. Says Herrema, "Nothing has changed within the Truxian universe we created for ourselves as teenagers; because Trux is and will always be our way of life whether living it together or separate...This is no hobby rock kick. We are long game lifers with no fear, no regrets and plenty of gratitude for the way the universe has rewarded our singular dynamic." Royal Trux find innovation in their 'Bitches Brew' aesthetic which now defines the standard mash-up approach so commonly ascertained and claimed by the majority of musicians that whether cognizant or not have followed in Trux's very large footsteps: "everything in the pot whether you like it or not," deriving from world music, punk rock, jazz, metal, electronic, southern, teeny-bop and all the rest. In the tradition of the blues, through appropriation and re-evaluation, Royal Trux changed the way we think of music. Their return is nothing short of glorious. "It's funny how the outside world perceives or feels compelled to parse complicated relationships and dynamics...Usually it's an all or nothing game", muses Herrema. "This next chapter is just another perfectly aligned bit of kismet. No concerted effort to force anything forward or to create something with an eye on the past. Only an awareness that the present had come calling with a gift to assist the future future of Royal Trux. The true believers that were once strangers found their way into our universe because everybody was ready for it and it simply, as if on cosmic cue, came to be.""