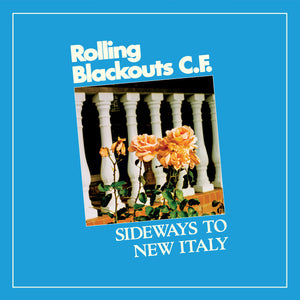 ROLLING BLACKOUTS COASTAL FEVER - SIDEWAYS TO NEW ITALY VINYL (SUPER LTD. ED. 'LOVE RECORD STORES' ROSE)
Regular price £22.99 Sale
STRICTLY 1 PER CUSTOMER - ANY MULTIPLE ORDERS WILL NOT BE ACCEPTED
SUPER LIMITED EDITION 'LOVE RECORD STORES' ALBUMS OF THE YEAR ROSE VINYL

Release Date: 5th December 2020
Super limited edition pressing of only 500.
The new album from the Australian rockers is their most focused and fun-filled yet! Sideways To New Italy has a more polished pop touch to it compared to their rough around the edges lo-fi earlier works, which complements all the hooks and catchy melodies on offer. But don't worry - there's still searing guitars aplenty comping at you from all angles! 
For Fans Of/You May Also Like: Disq, Bonny Doon, Fontaines D.C., Nap Eyes
"After years spent looking out at landscapes and loved ones and an increasingly unstable world, Rolling Blackouts Coastal Fever have turned their gaze inward, to their individual pasts and the places that inform them, on their second full-length, Sideways to New Italy. Led by singer-songwriter-guitarists Tom Russo, Joe White and Fran Keaney, the guitar-pop five-piece returned home to Australia after the relentless touring schedule that came following their critically regarded 2018 debut Hope Downs. Feeling the literal and metaphorical ground under their feet had shifted, the band began grasping for something reliable. For Keaney, that translated into writing "pure romantic fiction" and consciously avoiding the temptation of angsty break-up songs, while Russo looked north to a "bizarre place" that captured the feeling of manufacturing a sense of home when his own had disappeared. The New Italy of the new album's title is a village near New South Wales' Northern Rivers – the area drummer Marcel Tussie is from. A blink-andyou'll-miss-it pit-stop of a place with fewer than 200 residents, it was founded by Venetian immigrants in the late-1800s and now serves as something of a living monument to Italians' contribution to Australia, with replica Roman statues dotted like alien souvenirs on the otherwise rural landscape. The parallels to the way the band attempted to maintain connections and create familiarity during their disorienting time on the road was apparent to Russo. "These are the expressions of people trying to find a home somewhere alien: trying to create a utopia in a turbulent and imperfect world." The record's geographic identity emerged from the band losing their grip on their own, whether that was through the pressure of touring, the dissolution of relationships, a frustrating distance from their daily lives – or some combination of all three – that came from being slingshotted all over the world, playing sold-out headline tours and festivals including Coachella, Governors Ball, Primavera Sound, All Points East, and Pitchfork Music Festival. The notion of crafting, in Russo's words, "a utopia of where your heart's from," permeates Sideways to New Italy, in which early attempts at writing big, high-concept songs about The State of the World were abandoned in favor of love songs, and familiar voices and characters filter in and out, grounding the band's stories in their personal histories. There's something comforting, too, in knowing the next time they're buffeted from stage to stage around the world, they'll be taking the voices of their loved ones with them, building a new totem of home no matter where they end up."