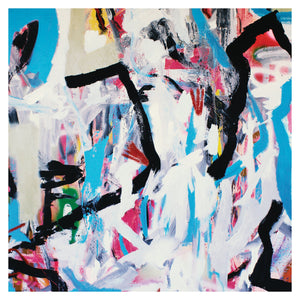 ROB MAZUREK - EXPLODING STAR ORCHESTRA - DIMENSIONAL STARDUST VINYL (LTD. ED. BLUE & WHITE SPLATTER GATEFOLD)
Regular price £25.99 Sale
LIMITED EDITION COSMIC MOMENT BLUE & WHITE SPLATTER VINYL HEAVYWEIGHT GATEFOLD
Release Date: 20th November 2020
Rob Mazurek & his Exploding Star Orchestra (ft. Jeff Parker, Damon Locks & Jaimie Burch, among others) bring us the sound of Chicago avant-garde jazz to your ears. Stardust!
FFO: Jeff Parker, Damon Locks, Jaimie Burch, Sun Ra Arkestra
"Multidisciplinary abstractivist Rob Mazurek has made an indelible impact on creative music over the past 30 years. Emerging from the musical nexus of the 1990s Chicago scene, he's written more than 400 compositions and is featured on more than 70 recordings (including International Anthem's very first, IARC0001, Alternate Moon Cycles). He's led many ensembles – including the Chicago Underground (Duo, Trio, Quartet & Orchestra), Isotope 217 (alongside members of Tortoise), Pharoah and the Underground (feat. Pharoah Sanders), and a duo with Jeff Parker. He's been on the cover of WIRE Magazine twice and is well-known as one of the prime 21st century progenitors of "The Chicago Sound." Commissioned by the Chicago Cultural Center in 2005 to assemble a group representing the diversity of the city's avant-garde, Mazurek began composing for what became his Exploding Star Orchestra (ESO). Including musicians from the often-segregated North, South, and West sides, ESO debuted in the urban epicenter of Chicago's Millennium Park and, shortly after, recorded We Are All From Somewhere Else (Thrill Jockey, 2007). By the time of Galactic Parables Vol. 1, ESO's 2015 triple LP on Cuneiform Records, Mazurek reflected to Pop Matters that "Exploding Star Orchestra is the conceptual, compositional and philosophical center of all my work... a life star of musical and visual and ideas." In 2018 JazzFest Berlin invited Mazurek to present a new iteration of ESO. Meeting the commission with the boundless ambition characteristic of his approach, he imagined a jubilee of musicians – true to ESO's essence in their widely diverse backgrounds and voices, but more tightly arranged than ever before. Mazurek's debut was an ecstatic and wholly original program that marked a pinnacle in his distinction as a composer and conductor of Contemporary Music. When he returned to Chicago, International Anthem took the opportunity to capture these new ESO compositions with a cast of collaborators from their collective constellation of artists. In the studio between August 2019-March 2020, Mazurek channeled his arrangements through 11 musicians – Nicole Mitchell, Jeff Parker, Jaimie Branch, Joel Ross, Mikel Patrick Avery, Tomeka Reid, Chad Taylor, Ingebrigt Håker Flaten, Macie Stewart, Angelica Sanchez, and John Herndon – and commissioned his long-time collaborator Damon Locks to do lyrics and vocals. After 3 months of rigorous post-production, editing and assembly, Mazurek completed Dimensional Stardust. Somehow swirling adventurous elements of avant-garde jazz and contemporary classical into the most universal attractors of pop music, the cosmic opera of Dimensional Stardust is a pure spiritual extension of Exploding Star Orchestra's unifying ethos, and a peak in the prolific creative career of Rob Mazurek."