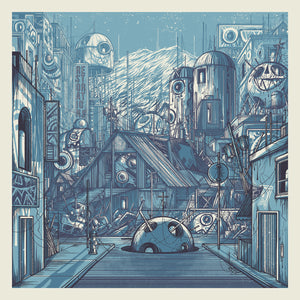 RESTORATIONS - LP5000 VINYL (LTD. ED. IMPORT)
Regular price £23.99 Sale
LIMITED EDITION VINYL 'SMOKE' VINYL IMPORT
Release Date: 14th June 2018
Limited edition pressing of only 350! The fourth (not five-thousandth) album from the Philly-five-piece Restorations, which was released late last year, is finally available here in the UK! LP5000 is gritty, yet uplifting Springsteen-heartland-rock influenced post-hardcore with the passion and precision to pack a proper punch!
FFO: Quicksand, La Dispute, Sore Eyelids, Holding Patterns
"Restorations has always been a band keenly aware of its surroundings and LP5000 is just that: seven songs written and recorded during a time of transition. Its a record about displacement. Its about feeling complacent and coming to the sudden realization that maybe things arent as solid as theyd seemedin politics, in personal relationships, and in the different corners of their hometown of Philadelphia. Its about knowing now that if you dont constantly work 24/7 to keep things together, they can easily fall apart. Recorded with longtime collaborator Jon Low (The National, Frightened Rabbit, The War On  Drugs), LP5000 is everything that fans have come to love about Restorations over the course of its decadelong career: anthemic heartland rock-and-roll replete with mile-wide riffs, psychedelic chooglinand too many guitars. During production, the band took the time to examine these seven songs, rip them apart, and rebuild them from the bottom up. We spent a ton of time deconstructing, trying different arrangements and exploring the material in a way weve never had time for previously, says frontman Jon Loudon."