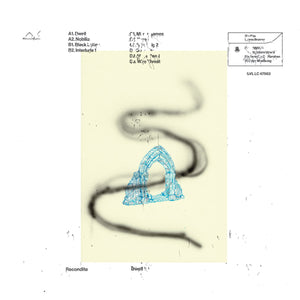 RECONDITE - DWELL VINYL (LTD. ED. 'MOTTLED' BLUE 2LP)
Regular price £21.99 £17.99 Sale
LIMITED EDITION 'MOTTLED' BLUE 2LP VINYL

Release Date: 24th January 2020
Limited edition pressing of 1,200! The 6th album from the German minimal electronica producer Lorenz Brunner, aka Recondite.
 

Dwell

 

is a monumental piece of minimalist majesty, with synth strokes as delicate as paintbrushes and laid on in-turn to build and shape sonic soundscapes. Touching on techno as well as downtempo, IDM, and even hip-hop, the record has a uniqueness to it. Dwell good! 
FFO: Steve Hauschildt, Christian Loffler,
 

Oneohtrix Point Never, Actress

 

"As electronic musician Lorenz Brunner sketched his vision for the first Recondite full-length on Ghostly in five years he took a step back to assess who and where he was as an artist. 2013's Hinterland accelerated a progression — he's since been touring around the world and releasing music with labels such as Hotflush and his own Plangent Records — yet, for him, the album cast a shadow of pressure that widened over time. As with most art forms, perhaps especially music, there is an expectation to change, to creatively pivot elsewhere with each project. After careful consideration, Brunner rejects this notion with his new work, opting alternately to use the icy Hinterland as an aesthetic and tonal template for a like-minded map of evocative compositions aptly titled after the German word "stillstand," now presented as Dwell. "I am coherent with what I do, even if I'm not reinventing myself," Brunner says contentedly. In regards to the album title, he adds, "It's like when you're on a hike and you stop and look at the scenery; you may know which path you want to go next but right now you are dwelling." The title also doubles as a reference to everyday domestic life, a restorative haven for Brunner between tours. Like Hinterland, he incorporates a subtle range of field recordings to intensify the textural atmosphere. While he worked at home on "Mirror Games," Brunner noticed the buzz coming from across the room, where his wife was using an electric toothbrush, naturally harmonized with the track. He decided to push that frequency further and record the device directly, syncing vibrations for added urgency across the propulsive piece as well as parts of the ambient "Interlude 2." Windswept, moody, and melodic, moments on Dwell linger with emotional resonance. The title track sends an eerie synth loop through a field of techno kicks. The beats recede for a breather four minutes in as if to survey the surroundings. If Brunner pivots anywhere — possibly just a new perspective afforded by being confidently stationary in his craft — it's by leaning more into hip-hop structures. He's an avid rap fan and his love for those production techniques is notably present on "Nobilia," a queasy shuffler (titled in reference to the Super Nintendo game Secret of Evermore), "Interlude 1," which skitters in lockstep with contemplative synth chords, and "Surface," an isolatory, ruminative sequence. The closer "Moon Pearl" soothes and shimmers like its namesake, a cherished gem in The Legend of Zelda series that allows carriers of the gem to retain their shape and essence in the Dark World. In an era where constant reinvention and highly self-reflexive brand awareness reigns supreme in the music industry, Brunner as Recondite does something many artists try to avoid, he dwells in his own established identity, one that has garnered him a devoted fanbase. His murky electronic productions, built around mirage-like pads and clipped drum programming, have proven to be highly functional and spectrally enveloping; Dwell is not a return to form, it is a further study of the shapes, it is the modes, and the structures Brunner has trademarked."