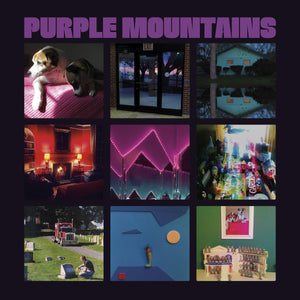 PURPLE MOUNTAINS - PURPLE MOUNTAINS VINYL (LP)
Regular price £21.99 Sale
Release Date: 12th July 2019
The last record from the musical and lyrical genius that was David Berman, was his first record under the new moniker of Purple Mountains. Berman is best known for his work under the band name Silver Jews, which he formed in 1989 by alongside with Pavement's Stephen Malkmus and Bob Nastanovich, but was the only constant member throughout. Purple Mountains is a masterpiece of Americana both in terms of its country-coated folk-rock music and its lyrical imagery. RIP David Berman, you've left this earth with one last gem that will be marvelled at for many a year to come, along with the others.
FFO: Silver Jews, Stephen Malkmus, Pavement, Bill Callahan
"Purple Mountains is the new nom-de-rock of David Berman from the Silver Jews. Purple Mountains is also the name of what will be known as one of his greatest albums – full of double-jointed wit and wisdom, up to the neck in his special recipe of hand-crafted country-rock joys and sorrows that sing legendary in cracked and broken hearts. The songs are produced impeccably by Woods' Jarvis Taveniere and Jeremy Earle, buffed up like a hardwood floor ready to be well-trod upon for an evening of romance and dance. Berman's songwriter's bone's never been laid more bare, either – if redemption doesn't come on the lyric sheet, the act of putting these songs into singing, dancing form allows them their nest end – to provide infotainment for others, embodying moments of life and truth via music that elevates with disarming warmth and a reassuring commonality, even as David himself stands outside the communal campfires."