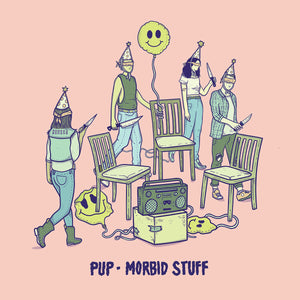 PUP - MORBID STUFF VINYL (LTD. ED. CLEAR W/ SPLATTER GATEFOLD)
Regular price £19.99 Sale
LIMITED EDITION CLEAR W/ MULTI-COLOURED SPLATTER VINYL GATEFOLD
Release Date: 5th April 2019
The Canadian pop-punk rockers are back with their angriest, yet catchiest set of songs thus far!
 

Morbid Stuff

 

is a full-throttle assault that will have you jumping and singing along in no time with it's gang vocal chants and massive hooks. 
For Fans Of: Jeff Rosenstock, Antarctigo Vespucci, Joyce Manor, Martha
"They say in the world of punk music nothing is given and everything is earned. Over the course of two albums PUP has given blood, sweat and vocal chords to earn every one of their accomplishments. This hard work has seen them go from scrappy young upstart on the mean streets of Toronto to bona fide punk rock heavyweights, garnering accolades from NPR Music, The New York Times, Pitchfork, and Rolling Stone. PUP have sold out headlining tours across the globe, played mainstages at major festivals and been nominated for awards but they have never stopped working, and from that effort they have emerged with their new album "Morbid Stuff." "Morbid Stuff" features 11 new songs that ooze passion, emotion and raw energy. This album captures the chaotically catchy, visceral sound that has already made PUP punk rock torchbearers and critical favorites, and continues to push and propel their music to the next level. "Morbid Stuff" is sure to draw in old and new fans alike to sing and shout along and share in the full experience of listening to PUP."