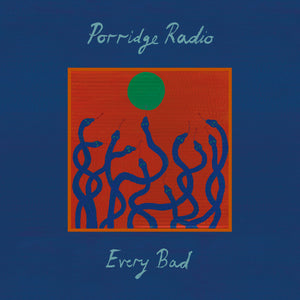 PORRIDGE RADIO - EVERY BAD VINYL (LTD. ED. MILKY WHITE /OR/ BLUE)
Regular price £18.99 Sale
VERSION 1: LIMITED EDITION MILKY WHITE VINYL

VERSION 2: LIMITED EDITION BLUE VINYL
Release Date: 13th March 2020
The British indie-punk band, led by singer-songwriter Dana Margolin, bring us their second album and first for Secretly Canadian. Every Bad is a clash of lo-fi indie-pop and post-punk with a very British sound and sensibility, tapping into the numerous waves of British indie-rock of the past. Breakout! 
For Fans Of/You May Also Like: Dream Wife, Hinds, Cherry Glazerr, Sorry
"Porridge Radio grew out of Dana Margolin's bedroom, where she started making music in private. Living in the seaside town of Brighton, she recorded songs and slowly started playing them at open mic nights to rooms of old men who stared at her quietly as she screamed in their faces. Though she eventually grew out of them, for Margolin these open mic nights unlocked a love of performing and songwriting, as well as a new way to express herself. She decided to form a band through which to channel it all and be noisier while she was at it - so Porridge Radio was born. Inspired by interpersonal relationships, her environment - in particular the sea - and her growing friendships with her new bandmates (bassist Maddie Ryall, keyboardist Georgie Stott and drummer Sam Yardley) Margolin's distinctive, indie-pop-but-make-it- existentialist style soon started to crystallise. Quickly, the band self-released a load of demos and a garden- shed-recorded collection on Memorials of Distinction, while tireless touring cemented their firm reputation as one of UK DIY's most beloved and compelling live bands. As the band's sound - bright pop-rock instrumentation blended with Margolin's tender, open-ended lyrics - has developed and refined, Porridge Radio have also received enthusiastic radio airplay on the BBC, Radio X and more. Now, they are taking that development a step further, as they put out their label debut, 'Every Bad'."