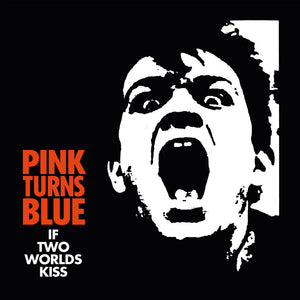 PINK TURNS BLUE - IF TWO WORLDS KISS VINYL RE-ISSUE (LTD. ED. CLEAR)
Regular price £21.99 Sale
LIMITED EDITION CLEAR VINYL RE-ISSUE
Release Date: 9th August 2019
Re-issue of the 1987 debut album from the German atmospheric post-punk band that were also heavily influenced by the noise-punk of Hüsker Dü, and would lay the foundations for the darkwave scene. If Two Worlds Kiss is a lost 80's post-punk classic that reminds us of The Cure, The Chameleons, Joy Division and many other post-punk pennants. Discover this lost gem for the first time! 
For Fans Of: The Cure, The Chameleons, Joy Division, Merchandise
"Founded in Cologne, Germany in 1985, Pink Turns Blue's blend of atmospheric pop informed by European post-punk contemporaries and buzzing punk dissonance of Hüsker Dü (the band is named after the Zen Arcade song) immediately tapped into a new canon of sound that was foundational to the emergence of darkwave. Tom Elbern (vocals, guitars)formerly of Seltsame Zustände and Mic Jogwer (vocals, bass) were joined by Marcus Giltjes (drums), and Ruebi Walter (keyboards) and caught on through diligently pounding the club circuit and circulating their early, self-financed recordings. Despite the commitment to their craft and initial grassroots success, securing label support proved difficult as they refused to sing in German and their sober tone lacked the shimmer of pop and optimism that executives felt formulaic to success. Still, the band persisted with the duo of Elbern and Jogwer sharing vocal duties and song credits, each informing the other's compositions until Elbern halved the song production and left the band in 1987. Continuing to perform and record as a three piece, the band eventually found roots with FunFactory!, an independent label based in Münster whose manager Axel Seitz shared the band's appreciation of the Velvet Underground and Andy Warhol's Factory vision, urging them to forego releasing singles and focus on a full- length. Released in 1987 and now remastered by Josh Bonati for vinyl release through Dais, If Two Worlds Kiss is a seminal offering to the canon of dark wave's DNA - a liquid lesson in melody, mood, and pacing - each track continuously adding to the journey like a unique push pin on a map of melancholy. Defined by their dynamic song-writing, their debut added a new urgency and depth to guitar-driven gothic rock by allowing fast songs such as the lead single "Walking on Both Sides" to possess the same sullen punch and melancholy as slower anthems like "When the Hammer Comes Down", which derives its power on the downbeat. More rhythmic variety is added through beat-driven dancefloor tracks with triumphant singalong choruses like "That Was You", showing they could swing hard - as well as swirl... Dais is proud to present the first ever official reissue of this classic deathrock / darkwave masterpiece. Limited vinyl edition is repackaged from the original art assets, in 24 pt reverse board jackets with inner euro sleeves with lyrics. Includes bonus track not included on original vinyl release "A Moment Sometimes"."