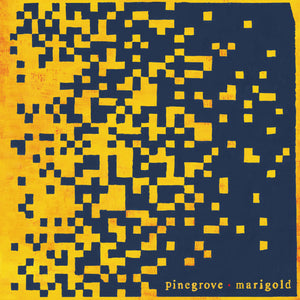 PINEGROVE - MARIGOLD VINYL (LTD. ED. 'MARIGOLD' YELLOW)
Regular price £17.99 Sale
LIMITED EDITION 'MARIGOLD' YELLOW VINYL

Release Date: 17th January 2019
VENUS VINYL OF THE MONTH - JANUARY 2020
Pinegrove's third proper full-length album, and first for Rough Trade Records, breezes in with the new year in such a fresh, wondrous Pinegrove'y way.
 

Marigold

 

is everything you've come to expect from this incredible band, and more. Their mixture of indie-rock, alt-country, folk and emo is so unique, it's mind-blowing - no one sounds quite like Pinegrove sound. Dynamics, emotion, rawness - it's all there in abidance as singer-songwriter Evan Stephens Hall and his band breathe new life into themselves and in-turn ourselves. The perfect way to start a new decade!
FFO: Hop Along, Oso Oso, Great Grandpa, Half Waif
"Pinegrove's new album begins with a breath and ends with a shimmering exhalation. In between is 'Marigold', an urgent, multivalent meditation - and an expanded take on the blend of alt-country, indie rock and cerebral humanism that's inspired the band's ardent fan community. 'Marigold' marks their Rough Trade Records debut, offering what songwriter Evan Stephens Hall calls a "heart-first" perspective. Those familiar with Pinegrove will recognize signature elements of the band's sound: literary yet conversational lyrics, geometrically interlocking guitars, the dynamic shifting shadows of rhythm and structure but this effort marks the most spacious, bold and well defined iteration of the project yet. Formed in 2010 by childhood friends Evan and drummer Zack Levine, Pinegrove have released three previous albums - 'Everything So Far' (2015), 'Cardinal' (2016) and 'Skylight' (2018) - to massive critical acclaim, garnering them a widespread and devoted listenership. They've described their sound as variously as introspective party music, or energetic music in the folk tradition; in any case they have combined catharsis and inventive structures with irrepressible melodies, resonant lyrics and emotive twang. 'Marigold' finds the band expanding into the latter, spreading out over varying tempos and swelling pedal steel but, in surprising moments, the album can suddenly unfold into the band's heaviest, most unbound offerings yet - a cavalier disregard of genre in favour of something honest and unique."