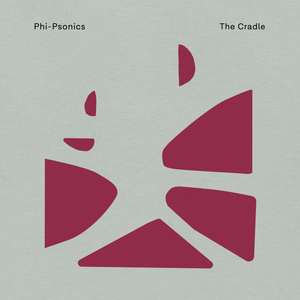 PHI-PSONICS - THE CRADLE VINYL (LTD. ED. TRANSPARENT VIOLET 2LP GATEFOLD)
Regular price £28.99 Sale
LIMITED EDITION TRANSPARENT VIOLET 2LP VINYL GATEFOLD
Release Date: 1st April 2022

"Phi-Psonics is a meditative, immersive instrumental group from Los Angeles, led by bassist Seth Ford-Young and featuring Sylvain Carton on woodwinds, Mitchell Yoshida on electric piano, and Josh Collazo on drums. Their deeply soulfulmusic draws on jazz and classical influences together with Ford-Young's own musical experiences, relationships, and his introduction to spirituality, yoga and philosophy at a young age, to create something uniquely its own. Phi-Psonics' name and ultimate aim is to find 'Phi' – the golden mean – in art, nature and self. Ford-Young explains:
"It's a bit of a cliché, but music saved my life many times and instilled in me a belief in the great power of healing through art. It is my hope and intention that this music provides healing to someone somewhere."
Originally from Washington DC area, Ford-Young moved to California in the early 90s and fell in love with the deep sounds of the upright bass and the music of Charles Mingus, John and Alice Coltrane, and Duke Ellington along with Bach, Chopin, Pärt, and Satie. He immersed himself deeply in music and keen to learn combinedintense personal study with collaborations, tours, and recordings with artists such as Tom Waits, Beats Antique, and John Vanderslice. In 2010 he moved from the San-Francisco Bay area to the Los Angeles hills and continued his explorations. But great music is rarely just about music and Ford-Young's meditative, soulful music draws on more than just the twin wellsprings of jazz and classical music:
"My mother was a yoga teacher from the early 70's until recently and taught me yoga and meditation at an early age, my stepfather is an Aikido instructor and student of the teachings of Gurdjieff. Those were all early areas of study that I came back to many times throughout my life. Phi-Psonics has been a project that unapologetically synthesizes some of these ideas into our music".
It's this mixture of influences, musical and extramusical, that gives the music of Phi-Psonics it's immersive quality and quiet power. Revealingly the music that would becomeThe Cradle, wasn't written specifically for an album, originally Ford-Young was just writing down what was coming through. As time went by and the album began to take shape, the world situation seemed to be getting darker and his compositions aim to offer hope as a response to the negative influences that abound today. Remarkably for such a beautiful sounding record, it was recorded at the composer's home, rather than in a studio, but the relaxed nature of this process gives the music an airy lightness that propels the music to some magical spaces."