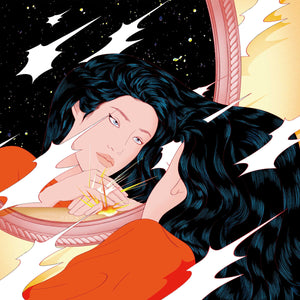 PEGGY GOU - ONCE VINYL (12")
Regular price £10.99 Sale
Release Date: 2nd March 2018
The Berlin-based South Korean producer's first release on Nina Tune is a perfect introduction to her effervescent take on house music with its cosmic disco and Eastern-slanted influences. Peggy Gou also takes to the mic for the first time - singing in her native Korean to give the track an even more magical feel! And how about that artwork!?
For Fans Of: Todd Terje, Prins Thomas, Lindstrom, Stellar OM Source
"Following standout 12"s on Rekids, Phonica White and Technicolour, Peggy Gou is poised to blow up in 2018. Arriving via Ninja Tune, new EP Once effortlessly spans her different styles and moods and features the stunning single It Makes You Forget (Itgehane) - a sleek, instantly danceable jam that shows off a new dimension to Peggy's signature production style, featuring her singing for the first time - and in her mother tongue Korean too. Recommended if you like: Avalon Emerson, The Black Madonna and Hunee. Black 12" vinyl in a black paper sleeve housed in a 3mm spined artworked outer sleeve. Artwork by Jee-ook Choi."