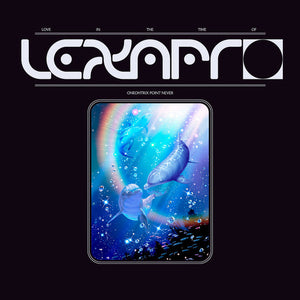 ONEOHTRIX POINT NEVER - LOVE IN THE TIME OF LEXAPRO VINYL (12" EP)
Regular price £11.99 £10.79 Sale
Release Date: 23rd November 2018
The American experimental electronica composer Daniel Lopatin, aka Oneohtrix Point Never, shares with us his final secrets from the Age Of recordings and accompanies these with collaborations with Ryuichi Sakamoto in a re-work of 'Last Known Image Of A Song' and Alex G in a re-work 'Babylon'. If you loved Age Of as much as we did, then this is a must!  
For Fans Of: Ryuichi Sakamoto, Alex G, Tim Hecker, Forest Swords
"Opener and title-track Love In The Time Of Lexapro has been receiving incredible live reactions as the only unreleased OPN composition during the ongoing Age Of world tour. Now, finally the recorded version is to be made available and is undoubtedly one of Lopatin's most beautiful compositions. Side A closes with a further collaboration between OPN and Ryuichi Sakamoto, the latter's starkly beautiful reworking of Age Of's Last Known Image Of A Song; while side B starts out with another brand new unreleased song Thank God I'm A Country Girl and finishes with an acoustic collaboration with Alex G on another Age Of stand-out, the haunting ode to New York City, Babylon."