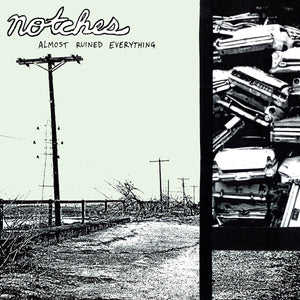 NOTCHES - ALMOST RUINED EVERYTHING VINYL (LP)
Regular price £16.99 Sale
Release Date: 10th August 2018
The American indie-punk rockers' second album, and first for Salinas Records (Radiator Hospital, Swearin', Bonny Doon) is a energetic punk/indie/grunge nostalgic trip back to the late 80's and 90's with it's gritty lo-fi sound but heavily melodic moments and catchy hooks evoking the spirit of The Lemonheads in particular, as well as, Archers of Loaf, Built to Spill and Jawbreaker. If those bands are beloved to you, then you are sure to love this love-letter of an album to those incredible bands! 
For Fans Of: The Lemonheads, Archers of Loaf, Built to Spill, Jawbreaker
"New Hampshire indie punks, Notches define the term power trio. Their second full length, Almost Ruined Everything is the bands first release for Salinas Records, and their strongest effort to date. Its hard to listen to Almost Ruined Everything and not have bands like Lemonheads, Husker Du, Guided By Voices, Jawbreaker, and even Cheap Trick come to mind. The songs that make up Almost Ruined Everything are well crafted punk rock tunes with a strong sense of melody and intensity."